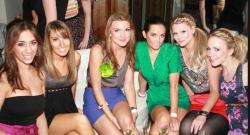 There's nothing quite like a bit of bad press, especially when it's about a newly opened bar and restaurant near to where you live with people working there that you know. Aquum is the brainchild of the consortium of guys who own The Leopard Lounge and the Clapham Grand. Having made, and are still making lots of dosh in property Aquum is, according to one of the owners, 'a place to enjoy ourselves. If it doesn't work, we close it down and lease it to someone else". Nice thinking, but you'd probably like it to work, wouldn't you? So, with Clapham High Street becoming an increasingly large strip of real estate predominantly made up of bars, clubs, restaurants and dodgy looking take-out joints, opening a glam bar and restaurant aimed plainly at the good-looking crowd wasn't such a bad idea. Or was it? Recent reviews thought not.
'Clapham High Street needed another new bar like a hole in the head. The atmosphere can only be described as cold and unwelcoming, not helped by a few wannabe gangster types in the corner". Square Meal
'Clapham cocktail bar was nothing short of a disaster, out of fashion (fluorescent green lights) and devoid of class (bouncers on a Sunday afternoon)". London Paper
I initially got in touch on the basis that I thought they could do with a little help with their wine list. One schmoozing lunch (Chez Bruce) and two tastings later…nothing, although they are looking to make a few changes over the next few weeks in time for Christmas. The next time I heard from them was just after the London Paper quote had been released and this time it was an invitation to come along for lunch, meet the chef, try out some dishes and then go along to one of their themed evenings to see what they're like as well.
Aquum's head chef is James Brown, resurrected from the dead and now cooking fancy food, Brown was previously head chef at The Settle Inn, now The Prince of Wales on the Battersea Bridge Road, James' spotlight arrived in 2003 when the Settle Inn was voted Evening Standard Sunday Roast of the Year. Roasts are one thing, but can he create a mouth-watering menu to attract what Clapham doesn't already offer, price it accordingly and start getting bums on seats. Well, from what we tasted…yes he can.
Oddly, there are no starters, a bit strange when the kitchen, which stays open till mid-night, might entice a few people to have a light bite during the course of the evening. They do however, as an alternative, offer four different types of Dim-Sum – £6.50 for 5, and the classic bar snacks – chicken satay, duck spring rolls etc (£6 each). For mains, it's all pretty familiar, but head chef Brown has added his own personal touches to each one, which I rather liked. My smoked paprika chicken breast with a warm salad of chick peas, butter beans, new potatoes, chorizo and salsa verdi, for example, was sensational. Also available to enjoy, are: baby spatchcock chicken, swordfish steak, confit of duck, roasted salmon fillets, and many more, all keenly priced at under £12.
I'm glad to hear that the midweek express lunch menu at just £5 is staying on for a while longer. That's fantastic value for money if you're in a rush but really want to sit down for half an hour – we're not suddenly going all European are we? I hope so.
Desserts, well yes, we did indulge. 'Historic', as Michael Winner would say, and I'm not joking either. Nothing daring, all the classics – chocolate brownies, sticky toffee pudding, apple crumble, banofee pie (deriving from The Hungry Monks Inn in Eastbourne, don't you know?) Food in general – Get down!
So, the evenings….dah, dah daaaaaah!
You do get a sense of 'what am I walking into' when you arrive. The doormen who look down at you wondering if you're of the right sort. Am I 21? Am I wearing my favourite Paul Smith slip-ons – oh God! You almost panic, because for a split second you actually think about it and even look yourself up and down! The lighting, matched with the fittings, I think works, albeit pristine. The sunken dance floor area at the back, hidden away, the VIP room upstairs with glass panels gazing down at those below, even the chap in the loo smiling contently, almost as if he enjoys his job too much.
The bar list does seem to have covered every base with staff who plainly know what they're talking about. The wine list, really good value, it must be said. It does need tweaking though!
Ok, the crowd does have that 'I'm desperately looking for a footballer' feel to it, and the guys, who you begin to think might just have spent as long getting ready as the girls, with fancy hair and pointy shoes, but that's cool, Clapham needs a smart, semi-pretentious clubby bar. A bit of glitz and glamour, Headphones and Heels nights, singer Marcella Woods giving it large on occasions, all good I say. Clapham has the lot now
For more info: www.aquum.co.uk