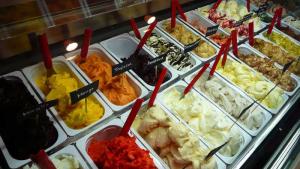 'Cocorino' is a story in two halves – gelateria and focacceria, each with their own doors. Brought to you by L'Anima restaurant's dynamic chef, Francesco Mazzei, who worked in his family's Calabrian gelateria and pastry shop aged eight, and Linda Yau, sister of his long-term mentor, Alan, the launch of the sweeter side of this rather cute Marylebone Village venture occurred last Wednesday. Lured by licking, Douglas Blyde went along to discuss cool-runnings with Mazzei.
What does 'Cocorino' mean?
It's the name of Linda's daughter whose first birthday coincided with the opening.
How long did it take to choose the 20 types of ice cream?
Actually we're still tasting and refining the selection every day. So far, the most popular is pistachio as well as the 'brioscia' (ice cream-filled brioche). We'll always have hazelnut – the first flavour I made at my uncle's shop.
What is your bravest flavour?
Myrtle at the moment, although I'm also looking at playing with vegetables – even parsley. And we're going to trial almond and coffee granitas from the weekend.
Where are your favourite ice cream 'destinations' abroad?
Apart from my uncle's shop in Cerchiara di Calabria, I love what they do at 'Grom', a chain which opened in Milan amidst the heat wave of '03. It has since spread throughout Italy to Paris, New York and even Tokyo. Apart from the excellent products, I admire their Slow Food ethos.
Linda and I spent a week of reconnaissance in Southern Italy. We became particularly excited by the little seaside town of Pizzo, on the west coast. The gelaterias in the square all sell the famous 'Tartufo di Pizzo', a chocolate and hazelnut ice cream containing chocolate fudge sauce, bathed in cocoa-powder and sugar.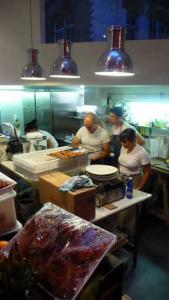 Do you think luxury ice cream is becoming an 'evergreen' item?
More than ever, especially in the UK. It's incredibly sexy. Everyone has a tub of Häagen-Daaz in the freezer, don't they? We've designed take-away cartons which keep the ice cream frozen for up to an hour.
What does the interior represent?
We've tried to recreate an idealised, authentic Italian gelateria – crisp, stylish, but cosy.
Could this concept by rolled-out, or is it determinedly a one-off?
Ask me in six months! We're just emerging from that 'crisis feeling' you get when starting a new businesses. So we're putting everything into getting it right.
What has been the reaction thus far?
Absolutely fantastic. I can't believe how much we're selling – up to 30 kilos a day and 35 on the weekend.
Where is the ice cream made?
On-site, using full fat milk, although we're still working on a couple of Soya-based versions.
Is there a particular process which defines its taste?
It's not an easy job because we don't use a 'base' – so there's a different recipe for every single flavour. If we were lazy, every flavour would feel the same in the mouth. The beauty of the different textures is down to how the individual ingredients are crushed, the very different proportions of oil, fat and eggs. It's alchemy.
When does the day begin at Cocorino?
The pastry chef either starts at 3am, or 6pm. But if they start later then they work all night. As well as ice cream, we offer pastries and cakes, fresh filled breads, pasta and porridge – and that all requires a lot of preparation.
Is it worth it?
Of course! At the end of a long day, any stress is wiped away by a pristine scoop of artisan ice cream which decadently melts in your mouth…
Cocorino – 18 Thayer St, Marylebone, London. W1U 3JY
Another project involving Francesco Mazzei includes the overhaul of the menu at SE1's Viva Verdi restaurant, where prosciutto is chiselled using an antique slicer.