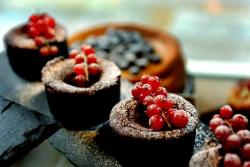 Whether it's the luscious swirls of chocolate in a GAIL's halva bun, the hand crafted grooves in their granary loaf or the tiger patterned crust of their pain de mie, GAIL's really knows how to celebrate food and transform it into glorious edible art.
This year at FRIEZE Art Fair, GAIL's Artisan Bakery will be tantalising the taste buds of London's glitterati with their carefully designed menu in the VIP lounge and tempting the greater community of art lovers in the Main Café with a plethora of their incredibly delicious artisan products. Using seasonal and locally sourced raw materials wherever possible, GAIL's team of chefs have culminated flavours, textures, colours and aromas to transform basic ingredients into a collage of edible art.
As any true 'foodie' knows, the process of digestion begins not with the palate but on sensing the aromas, viewing the colours and feeling the textures of the food. GAIL's believes that the experience of preparing and consuming food is a personal one and although transient should be celebrated like a fine piece of music or wonderful film.
The team behind GAIL's was inspired to start the business as they found it hard to find a tasty and healthy loaf on the high street. Knowing man cannot live on bread and cakes alone they also make seasonal salads, fresh soups and tasty sandwiches. All of GAIL's products are preservative, chemical and additive free.
Find GAIL's breads at a neighbourhood near you at GAIL's Hampstead, GAIL's Notting Hill, GAIL's St John's Wood, and GAIL's Battersea, 25 Waitrose locations in London, Ocado (www.ocado.com) the national online grocer and GAIL's at Harvey Nichols.