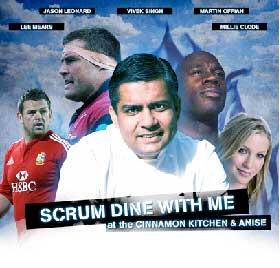 Cinnamon Kitchen and Wooden Spoon host a celebrity rugby event to find the best chef.
Converting a bunch of heavyweight rugby players for kitchen service may seem like an impossible task, but when it comes to charity you have to give it a try. Executive Chef Vivek Singh, of the esteemed fine dining Indian restaurant Cinnamon Kitchen, and Wooden Spoon, a rugby charity supporting mentally and physically disadvantaged children, introduce 'Scrum Dine With Me'.
On 21st October, swapping their England kit for chef whites, Jason Leonard OBE, Martin Offiah MBE and Lee Mears take possession of Vivek's kitchen in a celebrity cook-off. Four courses will be played out to an expectant crowd as each player creates and cooks his own dish. Hosted by Millie Clode, the Sky Sports News presenter, alongside a panel of esteemed food critics including Charles Campion, Kate Spicer, Humayun Hussain and Richard Vines will drop kick tasteless dishes into touch, giving the audience their opinion on each course.
Will Jason Leonard, the former England rugby union prop, otherwise known as 'The Fun Bus' score with his spicing or will former rugby league great Martin Offiah alongside Bath and England hooker Lee Mears tackle the tandoor to become king of the kitchen? Each player will battle against the other to win over the panel and the audience who will be rating each course as the evening goes on. Sky Sports will be filming all the action from the kitchen and screens will be in the restaurant showing all the live footage so guests don't miss a thing.
The rugby stars will experience the soaring temperatures and stress of a full service in the kitchen, with Vivek's kitchen brigade on hand they will be expected to produce some of London most exciting, modern Indian food, for which the Cinnamon Kitchen is famed.
Tickets to 'Scrum Dine With Me' are £125 per person with tables for 10 available at £1000 and include cocktails and canapés in the restaurant's contemporary bar and lounge, Anise, before enjoying a four-course meal from our celebrity rugby chefs. After dinner, an auction of money-can't-buy prizes will go under the hammer, before the 'Scrum Dine With Me' winner is announced.
Avoid the rucks and the mauls in the bid to get tickets by booking now to avoid disappointment. For tickets please call 0207 626 5000 or email
events@cinnamon-kitchen.com.
'Scrum Dine With Me'
Cinnamon Kitchen, 21st October, 6:30pm – Late
Early bookings are recommended, as numbers are limited.
Cinnamon Kitchen & Anise, 9 Devonshire Square, EC2M 4YL
0207 626 5000
www.cinnamon-kitchen.com
Wooden Spoon
In the UK, one child in every hundred suffers from a lifelong disability that will profoundly affect his or her ability to lead a full and happy life. More than 3.5 million young people grow up in low-income households or live in an environment where they are subjected to poverty of aspiration. At Wooden Spoon, we believe all that all children and young people deserve the chance to live happy fulfilled lives regardless of the challenges they may face. Spoon harnesses the spirit and values of rugby to give disadvantaged children and young people in the UK and Ireland a chance to achieve their full potential in life.
We partner with the UK rugby community, receiving invaluable support for our activities and the opportunity to raise awareness of the work
we do. In doing so, we involve some of the UK's top sporting role models to make a difference in the lives of young people in need.
During our first 25 years, over half a million young people benefited from more than £15 million pounds of investment in charitable projects
thanks to the efforts of our staff and volunteers. We are proud of our legacy, the work we do, and our ambitious plans for the future.
For more information on Wooden Spoon click on www.woodenspoon.com or contact Jai Purewal on 07738 999619 or jpurewal@woodenspoon.com
Reg charity in England and Wales No: 326691