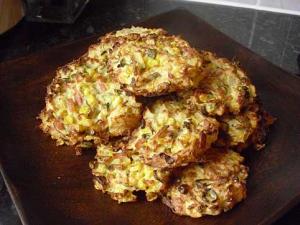 Similar to the Swiss classic Potato Rosti, but with the addition of egg, these lovely potato cakes are delicious, easy and versatile. You can make them with or without meat and basically add any ingredients to the basic potato and egg mixture that you choose. It's also a good recipe to make for children and even better, get them involved in the whole process! They are a great as snacks, as a side dish for roast chicken or a meal in itself!
(Makes approximately 12-16 cakes)
Ingredients
750g Floury Potatoes (You can use Maris Piper or any red potatoes)
6 spring onions, thinly sliced
2 corn on the cobs
3 medium sized eggs
300g of streaky bacon or pancetta, roughly chopped & fried until crispy
Generous seasoning of salt and black pepper
1-2 tablespoons of cooking oil
Method
Bring a large pan of salted water to the boil. Leaving the skins on, par-boil your potatoes (depending on their size) for about 10-15 minutes. Using a skewer, pierce through the potato, the exterior should be cooked but the inside should still be a little hard. Remove the pan from the heat, place in the sink and run a cold tap over them til they cool. Alternatively you can plunge them into ice water and this will also stop the cooking process. Once they have cooled, drain and dry the potatoes and leaving the skin on, grate them all into a large mixing bowl and set aside.
Using a sharp (non-serrated) knife, cut the corn kernels off the cobs by standing the cobs upright and keeping the knife fixed again the centre cob, sliding down to cut the kernels off. The process is easy, so don't be afraid, it just takes a degree of confidence and a little getting used to. Once done, add a little drizzle of oil to a frying pan over a medium heat and lightly fry the sweetcorn until is just cooked and nice and bright yellow and do not try to colour or over cook the kernels. Once done, allow to cool and then add to the grated potatoes along with your cooked bacon and spring onions. Crack your eggs (whole) into the mixing bowl and add your seasonings, then roll your sleeves up and mix thoroughly using your hands.
Once everything has been well mixed, preheat your oven to 220 degrees and prepare a baking tray, by brushing it with oil (even better if you add a sheet of baking paper and brushing that with oil). Then take a heaped dessert spoon of the mixture and dollop it on to the baking tray and flatten it making little patty shapes and bake for 20 minutes or until golden brown. You may need to do two rounds of baking, depending on how many you can fit on your tray. Great both hot and cold and perfect for snacking!