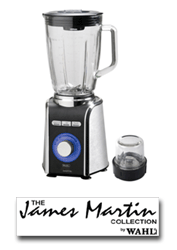 I've always mistrusted items that have 'Executive' in their title ever since my parents bought me an 'Executive' briefcase for school. It was finished in fake leather and had combination locks, whilst everybody else at school used old, real leather, '30s briefcases with brass locks that had been handed down to them by their Civil Service fathers. My dad was a printer on The Sun, so cups of tea rather than briefcases figured large in his working life .
So this table blender, part of James Martin's Executive Collection, has me eyeing it somewhat suspiciously. The box is shiny black and James himself poses on the front, semi-lit and looking like one of the Bad James Bonds, George Lazenby perhaps. The question I keep asking myself is why would an Executive want a table blender anyway? Don't they employ people to blend things for them?
Still things improve inside; minimal but carbon -footprint effective, packaging lifts away to reveal a 1.5 litre Goblet (the thing you blend in) made of the sort of glass you normally see between you and the Pope. Heavy duty, thick and probably bullet proof, this is a Very Good Thing because plastic taints food (that's why Coca Cola tastes better out of its glass bottle) and plastic does not hold in the heat. Blend a soup in James' blender and it will still be hot when you come to serve it. The weight of the glass goblet also means its sits simply and solidly on its motor base and doesn't need a system of annoying twist locks to locate it. This is good when things get hectic in the kitchen. The machine also comes with a separate mini goblet for grinding coffee beans and spices and this too is engineered like Schwarzenegger and will clearly survive a nuclear explosion with ease. The drive connections are of rubber, which should mean they wear out much slower than hard plastic or even metal.
The lid is well thought out too, a push fit that has two tight seals to prevent you redecorating the kitchen with soup when running the machine full bore. It also has the same trick as the Thermomix; a smaller filler cap which is designed to let you dribble oil in slowly to make a mayonnaise. The four blades are carefully engineered to miss nothing as they spin.
Pick up the motorised base and you can tell that this is super solid too, with effective rubber sucker feet so that the machine doesn't do a Strictly Come Dancing when your back is turned and then plunge suicidaly off the worktop. It needs those feet because the motor is a beast; 700W of power – sufficient to smash ice with ease. In fact the controls feature handy three preset buttons – ice, pulse and smoothie.
The main control knob lets you infinitely vary your blending speed, which is much better than stepped power for things like mayo, and it has a funky blue backlight as part of its overall smart, modern, look. My only gripe is that this knob feels far less solid than the rest of the machine, quite 'plasticky' in fact and I wonder why they skimped on this part when the rest of the machine seems so well-built.
In use it's averagely noisy, nothing to frighten the neighbours but obviously it depends what you're doing with it – ice and coffee beans are louder than smoothies. It has power to spare and works quickly and efficiently. We used it for making cocktails, as well as the more usual soups and it did a grand job, being easy to clean even when a bit squiffy afterwards. Maybe that's what Executives do with a blender, make drinks at the office?
What surprises is the price, £45 RRP, but lower still if you look around. For such a nice looking, compact, powerful, well-designed and robust machine that's a bargain and you even get a small recipe book from James thrown in. It's made by Wahl, who proudly announce themselves to be the 'Uk's Number 1 Hair Clipping Brand!', but don't let that put you off.
For once a celeb endorsement seems more than a marketing ploy, this blender is definitely a decent, thought-through, bit of kit. There are more devices in James' Executive Collection, so send your secretary to check the rest for you, on her own time of course. After all, you don't make executive status by being generous to the staff
Specs:
700W Table Blender
1.5Ltr glass jug with clear volume marks
Blue backlit speed control panel
3 control buttons for milkshake, ice crusher and pulse
Stainless steel blades
Detachable jug and blade
Grinder attachment
Cord storage