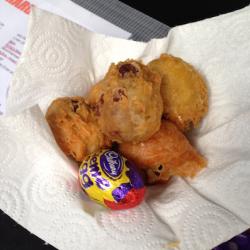 Fried food is surely at its lowest ebb. Street food aside, most of which is fried, the standard greasy fryer must be struggling as celebrities, politicians and the like rally against fatty foods.
Flying in the face of current trends, the team behind #FryHard (chef Jim Thomlinson and Emma Thomas) are pushing to show that deep fat fried foods can form part of a healthy diet. After all, anything can be fried, so your five a day is even easier to get in, all swallowed down with a layer of batter, crisped up in boiling hot oil.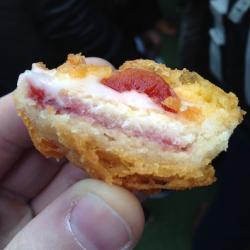 Let's be serious for a second, these guys aren't trying to say fried food is healthy, but we'll keep that bit in and who knows, they might make the pages of The Mail – they've been in almost every other paper!
Surely, as with everything, a bit of fried food isn't going to kill you – as long as it's part of a balanced diet (I'm sure we have to put that in for the regulators). Twenty minutes indulging in battered bites of cheese and onion pie, Bakewell tart, hot cross bun and a whole Cadbury Fudge is not going to be the final straw for this large camel.
Besides, it's not as if anyone is going to make #FryHard their whole meal, just a light snack before lunch or dinner this Easter weekend. It's not as if they're frying up a whole lambs leg…oh, turns out they are.
#FryHard can be found at Boxpark, Shoreditch, supported by Tincup Whiskey.