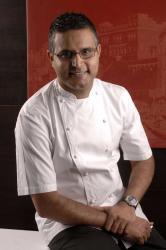 With a well-deserved Michelin star chef Atul Kochhar has very little to prove, but he still has at least one ambition, to get his hero Ken Hom into the kitchen at Benares. It would be a coup in keeping with the ambition of Atul's season of guest chef fusion menus to be served at Benares Bar in Mayfair from now until at least May. Each chef will work closely with Atul to prepare a menu of small plates reflecting the layers of flavours and spices he is so famous for, combined with their own signature style.
First up to the pass is Anna Hansen, chef of the Modern Pantry in Clerkenwell, and we pulled her out of Benares' kitchen for a few moments so she and Atul could answer some questions about what should be an exciting season.
So Atul, what made you do this thing?
I've been working with so many diferent chefs over the years. Two or three years ago I did a guest appearance with Nigel Haworth at Northcote and I've also done guest stints abroad and I just thought it would be a great idea to do it at Benares, especially as all the guest chefs are all friends too.In fact I chose from a 'wish list' in my mind.
Anyone you couldn't get?
Well I am working on Ken Hom, he is a hero of mine and I hope he will come in. He is so learned and educated about so many styles of foods, not just Chinese. He has said Yes, it's just a question of dates and his diary now.
And it's bar 'snacks' only?
Yes, we don't want to disturb the diners in the restaurant who have come for our regular menu, but I wanted to get some new influences and some new energy into the place and a bar menu seemed ideal. Lots of small plates so customers can sample lots of different things across the menu, which is of course a familiar way of dining anyway in Asia.
Who creates the dishes?
I ask the chefs to give me their ideas and then I pick a few and add a few of my own that I think will compliment theirs. So it's not an obscure menu, but a menu that will work for everyone. I won't be tweaking their dishes, more making sure that mine gel with theirs. It's an interesting concept, two different mindsets at work.
And it will challenge the kitchen here
I think it's going to be really motivational and inspirational for them to have people like Richard Corrigan and Anna Hansen in the kitchen. None of the chefs will be here all the time, for at least two or three days at least and they will pop in now and then. We will have their recipes and can call if we have any confusion. They're not going to be far away.
Anna Hansen isn't far away, just behind the pass in fact and she comes out, still in her whites and crocs to join us.
Good fun so far?
It's always great to go into another person's kitchen, especially a great big one! Our kitchen at Modern Pantry is about the size of Atul's pastry section. When Atul suggested it I thought what an opportunity it was to collaborate. My food sits quite well in here in a way because I use a lot of spices.
And you're first up?
I'm the first one yes, which is a bit nerve wracking, six dishes vegetarian and fish dishes to create, Of course there's no pork or beef in this restaurant for religuious reasons, which in some ways was a welcome limitation.I've also done a couple of dishes to go with particular cocktails.
So what can we expect?
Its quite a diverse menu but we are doing a crab and sea urchin gyoza with a squid ink lemon grass and lime dressing. I also invented a new dressing to go with my Persian spiced lamb cutlet with smoked anchovy and Iranian lime dressing, which sounds a bit freaky but is really delicious and I'm quite excited about it. I'm doing a dessert too, one of my signature desserts that I thought I'd bring to this side of town, which is a chocolate licquorice delice, which is like a set custard with whipped cream and a blood orange and coco chilli wafer.
Lots of spices then.
Yes and a vegetarian Indian fritter too, lots of turmeric, curry leaves and mustard seeds, feta and dates. I love using spices, the creativity you can achieve with them, I'd be so bored if I couldn't use them.
There's not much chance of being bored with Benares bar menu, and Anna's kicks of tonight the 21st February until 5th March followed by Richard Corrigan (Corrigan's) on 20th March until 2nd April, David Thompson (Nahm) on 16th April until 29th April and Nigel Haworth (Northcote) on 3rd May until 16th May.
Each chef will work closely with Atul to prepare a menu of small plates reflecting the layers of flavours and spices Atul is so famous for, combined with their own signature style.
Guests will be able to choose from a menu consisting of 12 dishes designed to share (3 dishes priced at £21 per person) made by both Atul and the guest chefs. Atul's selection will include: apricot stuffed tandoori cottage cheese in pickling marinade; chilli marinated tandoor roasted cauliflower and chicken tikka tangy onion salad.
Dishes will be complemented by the Benares signature cocktails such as The Benares Bellini mixed with Cartron liqueur – mango, passion fruit or strawberry – topped with prosecco and passion fruit and Chutney Martini and Atul's very own Domaine du Grand Mayne designed to perfectly complement the dishes by softening spices and reinforcing aromas.