Just because they are the highest restaurant in London, and now officially one of the best with their first Michelin Star, doesn't mean Galvin at Windows looks down on the diner on a budget. Look at the 'Galvin Giveaway!'restaurant manager Fred Sirieix explains to Nick Harman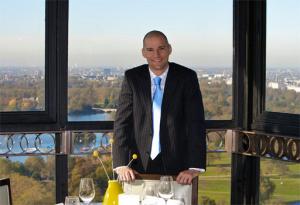 'We don't just do great deals like the 'Galvin Giveaway' on food and wine, we always have bottles of wine here that start at £18,' says Frederique as dusk begins to conceal our view of Liz's back garden far below. 'That's not expensive. Obviously we have wines that are far, far more but the diner has a choice. And our sommelier is expert in finding wines that are very good for the money, not simply low cost. There are about 50 wines on our list between £18 and £30.'
And, lets not forget that, even as Fred and I were sitting there, the leaked 2010 Michelin Guide had unbeknownst to us given Galvin at Windows its first star, a well-deserved recognition of Andre Garrett's cooking and an award that makes more sense than the fatuous stars awarded to the overblown pretension and pricey palaces of Ducasse and Heinz Beck.
'It is food you want to eat, as one customer said to me,' Fred explains. 'You might think we would be all molecular gastronomy in a place like this, no this is real food, you are going to leave the table satisfied. Take the soup you had on the give away lunch. Simple, yet so satisfying and using a basic ingredient like celeriac.'
The Giveaway is certainly madly cheap, my superb three-course lunch was just £25 including a glass of Pommery Brut Royal and for £39.50 can include a half bottle of very decent wine from a choice of three red and three white that Sommelier Max was happy to talk about . In fact every member of the team that came past was knowledgeable and enthused. A result no doubt of their confidence in their chef.
'Ah yes,' Fred agrees toying with his cup of tea. 'Andre is trusted by us all. The food here now is different to what it was 3 years ago; it's exciting for me to see Andre just growing in stature. He has such a good team here that he has time to think, to get out of the kitchen and read, visit restaurants, put pen to paper and come up with innovative recipes and menus. He is good to work with, he expects the best and he is strong and we work together well achieving the balance between the front of house and kitchen, excellence in both areas.'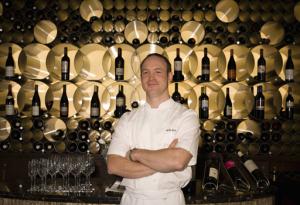 And the Giveaway price, what's that about? 'We wanted to do something for the start of the year and it really is a giveaway! Three courses for £25 with a glass of champagne at lunch and for dinner £50 from the menu prestige with the champagne, where can else you get that kind of quality food at that kind of price?" Fred sits back sharply in his chair as if amazed himself. 'We are going to be doing it for two months. It's good for business, of course, we need to be proactive and we want to lose the image of exclusivity that comes from being in the Hilton. We are not a Hilton restaurant; we are an independent restaurant at the top of the Hilton Hotel"
'We have always suffered from the perception that we are expensive," muses Fred sitting forward again. 'I remember that before I came to work here I had not set foot in the place, I was driving down Park Lane many years ago and I looked up at Windows on the World, as it then was, and I thought I will never eat up there, it's bound to be a rip off."
'After 4 years we are turning that perception corner, we have always had good value menus but that didn't get across to the general public. The bar menu is fantastic, Andre's cooking but at the bar. A starter for £4, a risotto for £6. These are smaller portions, tapas style, but you're sitting on top of Park Lane, with this incredible view and you're eating fabulous food at a great price. There's even wine at £5.00 a glass, pub prices!"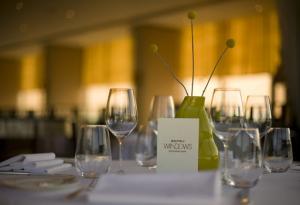 My own lunch had been superb, it's easy with hindsight but we could taste that Star coming. And at the price it was a ridiculously good bargain. What's more, asking for the Giveaway lunch didn't affect the quality of service.
'Absolutely not", says Fred emphatically. 'Customers like our friendliness, and the staff here really do love their work, they feel it's a family, that it's 'their' place and that comes through in the service. Not that we are complacent. We have the confidence to challenge things that are wrong and make them better. Today, before and during service, I saw things that were wrong, invisible to the guests perhaps, but not to me. The important thing is that they get fixed and we are even better next time. We don't make the same mistake twice."
It would be a mistake to miss out on the Michelin Star cooking and service at the remarkable Giveaway price. There's now going to be a stampede of Star trainspotters fighting for a seat, so move fast to book a table.
'We want to see the same people coming every day, or maybe at least every week," says Fred moderating his enthusiasm a bit. 'That's what we want, not one visit and never again. This is a great gastronomic experience that won't cost an arm or a leg, we want to prove that a restaurant with a great view needn't have bad, boring food or bad service."
They've definitely proved that. The Star is the seal, they really are on top of the world. As Fred say, as the news comes in, "It is fantastic to gain recognition for the good, honest food that we serve and genuine hospitality. We look forward to building on this and improving during 2010 and beyond."