Wine can be a difficult muse. 'Three colours and limited audience takeaway' was how a TV commissioning editor once decried it when I tried to pitch into pixels wine travel opus, 'Blood and Wine'. Care of French gastro comms firm, Sopexa, I was recently whisked to a Loire so frozen that Charolais cattle couldn't break ice to quench their thirst. Back in an equally frigid Blighty, my task, from Monnières to Mosnes is to summarise summery wines sipped in foot numbing cellars…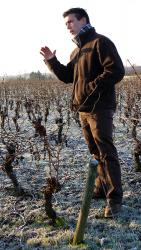 Muscadet (deepest wine reservoir in the Loire) – 'Fiefs aux Dames' 44690 Monnières
Julian Braud's girlfriend adores horses; he loves vines. Hopefully they've time for eachother. They recently purchased a quad of hooved beasts to begin to till their 99 acres of sand, silt, gneiss and gabbros sewn Melon de Bourgogne. Julian, who also rates Burgundy and going by his scarf, Burberry delighted in pointing out snow fringed statues of St. Vincent, patron of vignerons. His message: Muscadet is not just for shellfish – and it can deftly age. He recalled his father's '95 which, like adolescents transforming into adults, has gained weight with age. A number of cuvées reflect individual terroirs. While most are invigoratingly mineral, with some showing a gram of tobacco, the most 'natural', L'Autenthique '09 seemed anonymous owing to every man's most feared blight, premature evolution. Flavours of tarnished apple core were backed down by overly gentle acidity. In a quest for purity of winemaking, vin was en-route to vinegar.
Coteaux du Layon (wines of charm and Chaume) – 'Domaine de la Bergerie' 49380 Champ sur Layon
In February 2010, husband and wife, David and Anne Guitton opened restaurant, 'La Table de la Bergerie' in view of half century old Chenin Blanc vines. The highlight over a five course lunch of foie gras with ginger spiked squash chutney, then wild seabass with gravy and finally, clementine tart: skeletal, savoury '07 Savennières from shared vineyard, Clos le Grand Beaupréau. As the latest vintage was bottled by a noisily engaging robot, Crémant proved arrestingly pink and sprightly. It is as a shame that we see so little pink Loire pink fizz at home. Bronzed Quarts de Chaume '04 united aromas of clay, salt and olive oil, although acidity was wanting.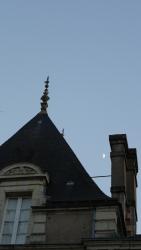 Savennières (a region which Tim Atkin MW would 'happily do without') – 'Domaine du Closel' 49170 Savennières
Matriarch, Evelyne de Pontbriand is custodian of the gently decaying Château des Vaults. It slumbers in a bottle green park of 19th century trees imported to evoke England's country seats. Evelyne often accompanies visitors at dusk on candlelit safaris of her estate where they come face to fur with her stuffed animal collection. A tasting of wines from a handful of the region's 35 producers occurred in the library, one of few heated rooms. Despite low light, I noted a water stained ceiling. The wine which won the olfactory battle against the smoke of the fire: Clos des Perrieres '09 (Chȃteau Soucherie). Fermented in meticulously crafted Austrian barrels, this limited release from 6,000 bottles offered clean aromas of fresh green apples, pine nuts and resin with more green grapes within the finely spun, crystalline refreshing frame. Unfortunately Nicholas Joly wasn't one of the producers present – there being obvious friction between what Wine Chap terms the 'Godfather of biodynamics' and Florence…
Bourgueil (home of François Rabelais) – 'Domaine de la Chevalerie' 37140 Restigné
Chevalerie's 11th century caves naturally remain at 11 degrees Celsius according to Pierre Caslot, father of Stéphanie and Emmanuel, who now run the domaine. Carpeted in raked sand and brimming with a timeline of bottles and barrels, I formed the fanciful impression of being on a subterranean beach lapped by an alcoholic sea. Pierre, cataloguer of this underworld took me on a taste driven tour. We begun with a juvenile, purple, tank sample of the latest vintage of the acidic vin de soif, injected with conviction from an outsize pipette into a small glass, and ended with iron scented, bloody '78 Busardières, from 50 year-old vines cool in clay. Looking a little like Oliver Hardy, Pierre almost danced as he extolled various food matches, from a multiple bird roast with the delicate '07 Busardières to the camembert and rose perfumed '93 Chevalier, which warrants 'a small terrine in the morning'. 27 samples of Cabernet Franc later – a variety which fellow scribe, Emily O'Hare described as versatile – 'the little black dress of wine' – I came to the conclusion that Christ has a surfeit of blood.
Vouvray (caves carved from tuffeau, ivory of Loire Châteaux) – 'Domaine Champalou' 37210 Vouvray
The spectacle of a thoroughly content three legged dog proved sufficient distraction to ensure tardiness when meeting Catherine and Didier Champalou. The team bought the business in 1983, beginning with half a hectare of Chenin Blanc. One of their daughters, Celine, works for the business, while the other works at wine merchant, Les Caves de Pyrène, Guildford . After a visit of the least beautiful but perhaps most functional cellars of the trip, where 'Le Portail', from the nearest vines, bubbled in barrels, we congregated at a Technicolor tablecloth. A portrait of the teenage Catherine looked on as the mature version romanced: 'the sky's bluer than Anjou here' while pouring Sec Tendre '09. It was clean, accessible, mineral and, like existence, fragile. But my favourite wine was the nonetheless notably young '09 Moelleux, sold by customer request in 50cl bottles. Exposed to noble rot, its aroma suggested pear, present also in confected form on the syrupy palate, along with cinnamon. A pleasant surprise was the Marc de Vouvray, made by Catherine's mother. Powerful but perfumed, it was my first taste of what Chenin can do when distilled. I nearly wrote a blanc cheque for a case.
Montlouis/Touraine (sip of the trip) – 'Le Rocher des Violettes' 37400 Amboise
Xavier Weisskopf's UK allocation was smashed by snow when the ceiling of the bonded warehouse gave way. A disgrace. I was greatly impressed with his soulful wines. I rated the feel of the small, gentle bubbles of his blotter paper dry Pétillant Originel '08 (he took over in '05). Free from added yeast and dosage, with an uneconomic amount of time on flavour yielding yeasty dregs, it was by far the cleanest, leanest, most successful natural wine sipped on the trip. Although the initial gaseous wafts of a tank sample of Cot (Malbec) – Syrah of the Loire – were distracting, a preferable aroma of violets fast replaced them. A glossy wine with delicate acidity and amazingly precocious at two months old, it proved a tasteful distraction to Xavier's dog which audibly culled a bat behind a barrel before attempting to sniff my crotch. Fortunately it was too vertically challenged to realise the latter ambition. But considering that other vintages grace the tables of Michelin starry restaurants, L'Arpège, Pierre Gagnaire and Taillevent, the Cot's quality shouldn't come as too sheer a surprise.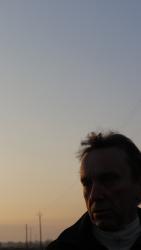 Touraine (ending the tour near Tours) 'Xavier Frissant' 37530 Mosnes (no UK importer)
Visited on such a beautifully silver, misty morning that neither the squat spectacle of a battery chicken hangar smoking amongst vines, nor the story of the multiple break-ins to Frissant's tasting room over the year could ruin the experience. Alas, all but one of his frequently searingly acidic wines, as chiselled as his face, failed to charm me. Les Roses de Clos '09 is made from Fie Gris, a variety which authorities consider lowly. But in his hands it was pleasant enough, with some orange blossom in its perfume followed by an enticingly soft palate. Although Xavier claims not to like wines made from it in these parts, his Gamay (grape of Beaujolais) also showed promise.
From tales of mature Muscadet to decadent chateaux with parks colonised by stuffed fauna, the wintry excursion had provided a colourful takeaway of memories from France's vine festooned garden.
Find wines on www.wine-searcher.com
Rest
L'Orangerie du Parc 195 Rue Grignon, Basse-Goulaine (converted orangery with galleried bedrooms)
Le Clos des 3 Rois 13 Rue du Bellay, Thouarcé (spacious, individual bedrooms, swimming pool and pool table)
Auberge de Launay Le Haut Chantier, Limeray, Amboise (functional, but cosy bedrooms; good restaurant with carefully composed wine list. Try phallic dessert, 'dynamite au chocolat')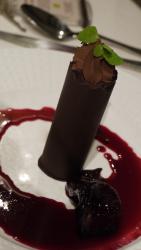 Restaurants
Restaurant de L'Ecluse 9 Quai de la Chaussée des Moines, Vertou (attractive art, fine but filling dish of foie gras, eggs and truffle)
La Table de la Bergerie Champ-sur-Layon (five courses with wine pairings, €60. Wednesday-Sunday)
La Corniche La Haie Longue, St. Aubin de Luigné (locals restaurant serving calf brains)
Au Chapeau Rouge 49 Place du Général de Gaulle, Chinon (recent, yet fogey decor including aquamarine loos; winning baked Alaska)