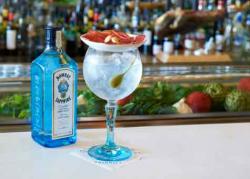 Gin and Tonic and a tapas or two? Lucy Self finds that at Taramontana Brindisa the odd couple is a marriage made if not in heaven, then at least in Shoreditch
London may struggle with a lot of things (regulating public transport when there's a dusting of snow and stopping the sprawling ascent of chicken shops on its high streets) but when it comes to tapas it's doing rather swimmingly. With bone fide joints such as Jose, Bar Tozino, Boqueria Tapas, Cambio De Tercio, Copita and Angels and Gypsies stretching out across London, it's hard to imagine that when Tapas Brindisa opened in 2004, on the edge of Borough Market, it gave Londoners one of its only authentic insights into Spain's infamous small plates.
Monika Linton's Brindisa brand has grown up since then, branching out with restaurants in South Kensington, Soho and, most currently Shoreditch's Curtain Road with Taramontana Brindisa towards the end of 2012. Whilst the menus differ slightly from site to site, they all share the same principal – superlative ingredients treated simply; and all continue to deliver some of the best tapas in London (and some of the best graduates, including Jose Pizarro who started his career in their kitchens).
But one must keep the customers on their toes, giving them fresh reasons to come back, which is what led me to spend a rather enjoyable evening at Taramontana Brindisa. I was invited to learn more about their new Ultimate G&T Tapas Pairing. Launching across all four sites, Brindisa have teamed up with Bombay Sapphire to combine the iconic G&T with a small plate of tapas (an idea derived from 17th Century Spain, when one's drink was served with a small plate of something delicious on top).  
This being Brindisa, theplate contains jamón ibérico debellota, the finest acorn-fed cured Spanish ham selected by their Master Carver, Mario Hiraldo who also runs a series of'Ham School' carving master classes in the restaurants. Mario was on hand on our visit, to guide us all in the art of carving (trim the fat so you have a flat surface to work with, carve with the bone facing away from you and bring the knife towards you, keep the slices so thin you can always see the silver of the blade through the jamón).
Before we were let loose on £150 legs of aged pork, we were fed springy Pan de Coca with tomato and olive oil, salty potato crisps with plump white anchovies, oozing croquetas and golden, deep-fried Calçots with romesco, whilst one of Bombay Sapphire's Master Distillers took us through the ten botanicals that make up the gin's complex taste profile. Surprisingly (for me, other more knowledgeable folk might know this already), amongst the more obvious components like juniper berries and lemon peel, Bombay Sapphire also contains almonds – a key Spanish ingredient.
Whilst perhaps not the most obvious pairing, we're informed that gin and tapas is extremely popular in Spain, with many examples to be found on the streets of Barcelona and Valencia (I'm so intrigued by this that I go home and tap'gin tapas Spain' into Google, and sure enough countless examples pop up – particularly in the big cities).  As he talked and we sipped the ice-cold G&T's (served in a balloon glass to trap the aromas) in between mouthfuls, the more sense the pairing made – the citrus-fresh notes cutting through the rich, oiliness of the dishes perfectly.
To round up the evening, we were given a lesson in making the iconic tipple for ourselves (the key lessons here being one part gin to two parts tonic and as much ice as you can cram into the glass) garnished with a fat caperberry. Once we'd finished these, plus another round of scarlet jamón and crunchy almonds, we were so thoroughly sold on the pairing, we'd planned a trip to Barcelona to'fully' investigate.  
The Ultimate G&T Pairing will be available at all Brindisa restaurants from 1st April until 31st May and costs £10 for the drink and plate of jamón and almonds.