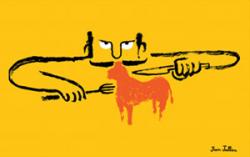 Byron, the London based hamburger chain, is supporting Movember again this year and has enrolled the help of Gizzi Erskine
to create the Gizz-Mo hamburger, available at all Byron restaurants for the month of November.
The Gizz-Mo is a Welsh Rarebit hamburger made with a six ounce beef patty and Welsh Rarebit topping (made from smoked Cheddar, English mustard, stout and Worcestershire sauce) and will be available for £8.25. For every Gizz-Mo sold, Byron will donate 50p to Movember. Byron will also be rewarding registered Movember fundraisers who raise £25 or more with a free hamburger every day for two weeks from November 7th – 20th.
In 2010 Byron partnered with Movember in the UK to help to raise funds and awareness for men's health issues. They gave away almost 9,000 hamburgers to Movember fundraisers and sold 5,000 Mighty Mo specials, as well as raising over £23,000 for the charity independently through individual team member and company fundraising. This year they hope to more than double that. 'We chose to work with Movember because it is a fun, successful charity that offers a fresh approach to fund-raising." Says Tom Byng, Founder of Byron.
Movember is a moustache-growing charity event held during November every year that raises funds and awareness for men's health issues, specifically prostate cancer and other cancers that affect men. It was set up in Australia in 2003 and more than 480,000 people took part in 2010 around the world raising a total of £48.7 m. In the UK nearly 112,000 Citizens of Movember registered to take part in 2010, raising £11.7m.