With one of the cutest websites I've seen in ages, the Gnaw folks clearly put as much fun into their product as they do their online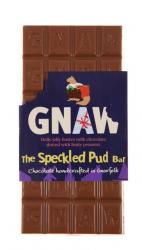 marketing. For Christmas, the hand crafted chocolate company from Gnawfolk has released two special chocolate bars that conjur up the spirit of the festive season.
The Speckled Pud Bar is a chocolate bar with all the loving goodness of a plum pudding inside. I'm not usually a fan of chocolate that's trying to be something else, but the hint of cinnamon and spice, cranberry and sultanas work in the best kind of way. Likewise the Snowberry Drift bar which is white chocolate playfully infused with zingy pieces of strawberry and crunchy morsels of honeycomb; works really well. I'm sold.
Pulling the virtual handle on the candy bar slot machine on the website at I'm not entirely convinced that some of their concoctions are the greatest idea, like the coffee and mint, or chilli and lime for example, but then again, I am intrigued by more of their range than I am put off. The inclusion of flavours like peanut butter, banoffee pie or solitary walnut – which does not get a big enough piece of the chocolate pie as far as I'm concerned – tells me that Gnaw know what they're doing and even more importantly, they love what they're doing.
To get your hands on this elusive chocolate, just browse their list of online stockists and shops that have twigged on to this product that puts the fun back into chocolate. For more information, visit Gnaw Chocolate.