Other than Christmas time, there is really only one chance a year when adults get to slacken the reigns on maturity. Halloween is the one night of the year where everyone can make believe. Whether your preference is for dead things, gore or monsters you'll be guaranteed to find something to your liking as the stores fill up with Halloween themed goods.
Even Harrod's gets in on the action, but as always, they like to do it in style. Every time we get one of those little green bags we just know we're in for something special. This year Harrod's is stocking some creepy Halloween goodies that will go down well not only with the little ones, but with us grown ups too.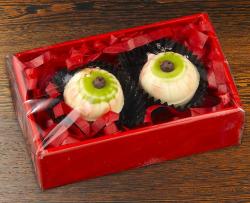 My favourite is the Sir Hans Sloane eyeballs. A pair of green eyes staring up at you from a red box, these ghoulish treats not only look great but taste even better. A white chocolate shell encasing a chocolate and raspberry filling, these spooky sweets would make the prefect edible prop for any Halloween party.
'The Scream' chocolates were also impressive. This chocolate snack is less gory and rather horribly elegant, ideal for someone who wants to give a general nod in the direction of Halloween without going all the way. Solid, self chonched milk chocolate screaming faces gleam golden but have an added element of surprise, they glow in the dark.
On a more traditional note, Harrod's also stock father-daughter duo Choc-on-Choc. From their Somerset workshop, Kerr & Flo work tirelessly to create a range of chocolaty treats that stand out. Their simple themed plaques are slabs of moreish Belgium chocolate, that sport a Halloween image this time of year. Once you bite into one of these bad boys it's very hard to stop from eating the whole thing.
The Biscuiteers offer sweeties of a different kind. Their rich chocolate biscuits-on-a-stick are lovingly decorated with Halloween ghosts, jack-o-lanterns and bats and make a super gift idea for this time of year or a colourful way to pep up a Halloween party.