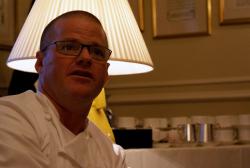 Dinner by Heston Blumenthal is set to be one of 2011's hottest new restaurants and after its original opening was delayed in December (thanks to the 'mayhem' of Christmas according to someone in the know) we are now only a matter of two weeks away from discovering whether Blumenthal's first restaurant in London is Fat Duck or lame duck.
Having just finished filming for a new TV series that starts in February, the slick glasses and shaved bonce of Britain's much-loved gastro-scientist appeared in one of the Mandarin Oriental London's luxurious suites to talk about his new venture just a few flights of stairs beneath us. He seems like a convivial chap and moves around the room to greet us before being introduced more formally by the hotel manager.
Given the plush, decadent, almost austere atmosphere in the hotel, one would be forgiven for imagining that the restaurant might be similar in style but Blumenthal is quite definite about his vision, particularly when asked if there is a dress code. 'No there isn't, definitely not. If you want to wear a suit for dinner, wear a suit. If you want to wear a pair of jeans and a t-shirt, that's fine. I think we are becoming more comfortable with the idea of eating out and we're getting more comfortable in doing so in our own skin. There aren't tablecloths or carpet in the restaurant. I want it to be noisy and fun.'
Blumenthal is now sitting on a suitably deep settee in one of several rooms that constitute a suite on the second floor and is nursing a cold that he miraculously acquired during a quick nap on the plane back from New York. 'I went to sleep for two hours and woke up with this sore throat'. Despite the concerns of some PR people over the state of his voice and general health, he's endeavouring to describe the nature and background of some old recipes he's discovered, including a toast sandwich. 'It's actually really nice. There'll be toast sandwiches when we start doing afternoon tea'. He sips tea and water alternately, spluttering and apologising occasionally, but still manages to talk brightly about his research; he's actually quite a raconteur as well as a chef.
Anyone familiar with his recent work for Channel 4 will know about Blumenthal's passion for recreating recipes from the past. It is easy to see this as merely a gimmick that makes for some entertaining television, but strip away the theatre and squeamish diversions and it is surprising how much the historic has influenced the concept of the new restaurant. Blumenthal talks about how his interest in gastronomic history helped him form the notion of Dinner a few years ago, asserting that his idea was never to open a themed restaurant. 'We're not recreating old dishes, we're taking inspiration from historic recipes. Sometimes it may just be a garnish on a dish, like cucumber ketchup. We're doing a lemon salad that's from a Tudor recipe. It's a subject matter for the cooking.'
Anyone expecting a second version of The Fat Duck will be disappointed. Blumenthal realised a few years ago, when someone proposed opening The Fat Duck in Tokyo, that doing another would be very difficult. 'The Duck is a labour of love. I want to keep it small and in Bray.'
A quick glance over some of the dishes mentioned in the press material, including slow cooked short rib of beef and scallops with cucumber ketchup, illustrates that the menu will be reassuringly simple and contemporary, despite the historic influences that Blumenthal talks about so enthusiastically. He envisages Dinner as a 'refined brasserie' and, having heard firsthand about the approach he and head chef Ashley Palmer-Watts have taken in devising the menu, you feel confident that this is what they will achieve. Blumenthal mentions his desire to avoid the 'formal, stuffy' hotel restaurants that 'no-one really wants to eat in'.
Considering the restaurant will allow you the chance to sample dishes created by a three Michelin starred chef and is situated in a part of London that gives its diners views across Hyde Park, a set lunch at £25 and an a la carte menu at around £50-55 seems surprisingly reasonable. A presumably more expensive tasting menu will be introduced later in the year, as will afternoon tea, but at the moment there is an unexpected whiff coming from the kitchen and it smells strangely like value. Only time will tell if diners feel the same when they come to put down their dessert spoons at the end of a meal.
As the last of the breakfast canapés float around the room and Heston finishes a story about cooking ancient recipes with the chefs at Hampton Court, someone asks him how he's feeling about the opening. He looks a bit embarrassed when he says 'nervous… and excited' but it's easy to understand why when The Fat Duck has been so phenomenally well-received. It will be interesting to see if comparisons are made and whether Dinner's critical reception will suffer because of the standard set by Blumenthal's most famous achievement.
Of course, we will have more conclusive answers about the food, atmosphere and value for money at Dinner when it actually opens on the 31st January, but having heard Blumenthal talk with such genuine passion about the ideas behind the menu and the restaurant itself, it seems possible that his new place might just live up to all the hype and an already healthy waiting list.