Colourful character and legendary Italian Chef Aldo Zilli took to center stage to promote his new favourite gadget. Forget peelers, mandolins and spatulas; this is one piece of kit you won't find in your standard kitchen shop. The American InSinkErator has arrived in the UK to answer all our cooking waste quandaries. No garden for compost? Bin overflowing? The InSinkErator quite literally gobbles up all your cooking waste, safely grinding it down and allowing it to enter your normal waste system. Down go chicken bones, peelings and any other kitchen scraps, saving them from landfill and stinking out your bin.
Luckily for us the lunch wasn't all about the gadget. Aldo created a storm in the kitchen, chopping peeling and InSinkErating as he went. Here are a couple of recipes he shared with us.
And for more information on the power of the InSinkErator: www.insinkerator.co.uk
Prawn Siciliana With Spaghetti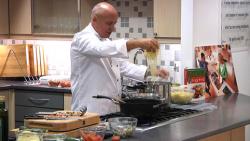 Serves: 4
2 courgettes cut into julienne
16 raw tiger prawns, shelled
2 garlic cloves, crushed
20 black kalamata olives, pitted
Extra Virgin Olive Oil
2 Fresh red Chillis, deseeded and finely chopped
6 plum tomatoes, de skinned and deseeded, diced
2 tablespoons capers
Salt and ground black pepper to taste
Grated Parmesan
2 tablespoons chopped fresh parsley
400g spaghetti
Heat the oil in a pan and add the garlic, chilli and sauté for about 2 minutes until the garlic is soft, make sure that you cook over a medium heat as you do not want to burn the garlic. Discard the garlic because the olive oil would have already infused.
Add the prawns, capers, olives and courgettes and cook for a further 8 minutes until the prawns have turned pink, add the tomatoes and cook for a further minute.
Cook the spaghetti according to pack instructions and drain thoroughly (reserve a little of the pasta water)
Add the pasta and Parmesan to the pan with a little of the water from the pasta pot and one tablespoons of the parsley and toss to combine, cook for a further minute serve immediately with a sprinkling of the remaining parsley.
Chicken Thighs Filled With Gremolata And Roled In Parma Ham
Serves 4: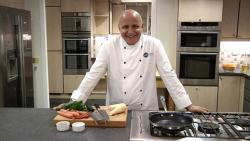 8 chicken thighs
8 slices parma ham
Gremolata:
5 tablespoons extra virgin olive oil
Juice and zest of two lemon
3 garlic cloves, finely minced
7 tablespoons finely chopped parsley
1 tablespoon butter
2 tablespoon finely chopped sage
Make the gremolata by mixing all the ingredients together and leaving to marinade for half an hour.
De-bone the chicken thighs leaving the meat whole.
Lay a slice of parma ham across a chopping board and then place the chicken thigh on top. Spread some of gremolata all over the thigh and then roll using the parma ham. Repeat until you have 8 wrapped chicken thighs.
Pan fry the chicken in some olive oil until brown on the outside and then place in a 190C oven for 30 minutes before serving with Rosemary Roast Potatoes and Sauteed Spinach