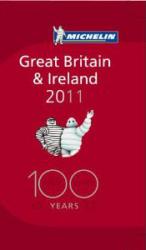 It's an impressive 100 years since Michelin first launched itself on the British public and in all that time it's come a long way from a motorist's guide to service stations with some helpful hints on car repair thrown in for good value. To celebrate a whole century of gastronomic critiquing, Michelin will release the 2011 edition with an accompanying retrospective on the guide book's history. This promises to be an interesting read – hopefully with accompanying illustrations of families enjoying good old British favourites (I'm thinking crumpets, sardines on toast, tongue sandwiches) while Pop tinkers under a potentially explosive bonnet.
These days Michelin and its star ratings are synonymous with haute cuisine of the highest standard. Recognised as the ultimate accolade in a fiercely competitive industry, Michelin have awarded stars to many of the UK's high profile chefs, such as Gordon Ramsey at Restaurant Gordon Ramsey (3 Michelin stars), Michel Roux Jr at Le Gavroche (2 stars), Raymond Blanc at Le Manoir aux Quat' Saisons (2 stars) and Heston Blumenthal at his restaurant The Fat Duck (3 Michelin stars). Just 90 restaurants worldwide hold a coveted 3 star status.
Michelin awards its stars to the restaurant, rather than the chef, meaning that each eating establishment must be judged on its own merits across a range of criteria judged to be of an 'exceptional' or 'outstanding' standard. Food is only part of the equation, with 3 star restaurants typically paying attention to the minute of every detail – this means wine glasses of the finest crystal and the supreme civility of a 'coat valeting service'. Michelin also awards its prestigious Bib Gourmand to restaurants and pubs that represents exceptional value.
It's been a good year for British restaurants with a record 143 stars awarded across the country. Commenting on the 2011 guide, Editor in Chief Rebecca Burr said: 'The country embraces all kinds of restaurants and every type of cuisine and the public's appetite shows no signs of abating." Although the capital still does a great job when it comes to representing the quality and sheer diversity of British cuisine, there are growing signs that Michelin restaurants are mushrooming outside the capital, with venues such as the one starred L'Enclume in Cumbria and Restaurant Nathan Outlaw in Cornwall, which has just earned its second star, receiving considerable media attention.
Equally important to the tough Michelin system is the removal of stars should standards fall, and it hasn't been all plain sailing for British dining. While 14 British restaurants were given new Michelin stars, 11 others were stripped of the award; although it's true that British restaurants are offering some of the most exciting and various cuisines to be found, it's also true that attitudes towards service and detail are responsible for letting the industry down.
'Surly, slapdash and dreadful" is how Chef Michel Roux Jr summed up customer service in the UK. The French chef and owner of the Michelin starred Le Gavroche went on record while filming his new TV series Michel Roux's Service, blaming snobbery and outmoded social hang-ups for Britain's terrible track record. Apparently restaurant service is a respectable profession in counties such as France and Italy, with many skilled positions offering decent wages, while British restaurants present modern-day bedlams with slack-jawed staff drooling into the soup before unleashing their ASBO's on customers. Looks like Michelin still have their work cut out then.
{ISBN:206715351X}