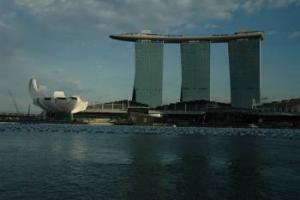 They serve a surprise menu at Santi's at the Marina Bay Sands Hotel in Singapore. The surprise is mostly finding Santi Santimaria, perhaps the second best-known Spanish chef in the world, here in this remarkable hotel complex in the tropics.
I mean how many hotels have a boat on the roof, straddling three towers and over 57 floors up? A hotel moreover that's been built on what was once water. As Singapore prospers and grows the only way is no longer up, it's now out as well. Stand on the open deck of the boat, fighting vertigo and trying not to look at the infinity pool, and far below you can see further land reclamation going on as Singapore builds itself a brand new Zoological Garden, one that is destined to be probably the best in the world.
As we fight recession, Singapore is spending like a poet on payday. The Marina Bay Sands isn't just home to Santi's but also Wolfgang Puck, Daniel Boulud and many other celebrity chefs. You could say the authorities were gambling on the good times never ending, except that gambling is a bit of a dirty word around here.
Next to Santi's is a casino, one of only two in Singapore. Permission to create it hinged on also creating the 'integrated resort' that is now the recently opened Marina Bay Sands. Gambling is frowned upon in Singapore and so only foreigners can walk straight into the casino, locals must pay 100 Singaporean Dollars which is then donated to charity. It's a way of controlling people's urges, apparently.
If their urge is for powerfully expensive Spanish food though, then Santi's is ready to oblige. On an island packed with fantastic eating opportunities, to show status is to eat European and Santi's, with its door flown over from the man's hometown in Spain, is the place to do it.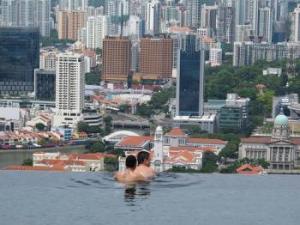 The front bar is all Spanish, albeit of course a recreation, here you can have quick tapas before diving back into the roulette action next door. Pass the open and very large kitchen though and you are in a restaurant that is anonymous in its careful style.
As it's a surprise menu, we sit and wait and wonder what you actually get for SD350 without wine, around £175. That alone is a bit of a shock, although not entirely a surprise, but as it turns out we get 12 courses so you can't say you're short changed.
11 courses later, and with the restaurant now empty and the cleaners looking at their watches, we finish with a triumphant selection of cheeses. Commonplace in Europe, harder to get in Asia. So too are the wines we have had, a selection of incredible quality and playfulness. Not all Spanish either, but the 2003 Clarendelle Amberwine remains on my memory with its intense fruit aroma.
Stand out dishes were the Alaskan King Crab with beurre blanc sauce and caviar, well partnered with a 2009 Roero Arnesis, Bruno Giacosa whose lightness was perfect against the beurre blanc.
Kurobuta pork is Berkshire pig raised in Japan to be rather like Kobe beef – finely marbled – and has a unique and fine taste. Along with Santi, The French Laundry in California is also a fan. Here it was served with octopus and white truffle and was remarkable.
In a nod to his hosts, Santi served fish of the day with pil-pil, a chilli hot Basque sauce, along with peas and Bamboo clams. The latter were new to me but very popular in Asia and very similar to razor clams. Their mussel like flavour is perhaps more delicate and they taste a bit of lime because, as the waiter told us, the pickers squirt lime juice down the hole the clam lives in and it then charges up to the surface where they quickly grab it.
And to finish Roasted Suckling Pig with a 2008 Felton Road Pinot Noir. A powerful wine and deep ruby colored, it had the long finish needed to deal with a big flavoured pig.
Santimaria is not in the kitchen of course, but his best man is. As I took the high speed lift to my top floor room and its stunning views, a ride so fast my stomach had to take the stairs two at a time to catch up with me, I could feel that even through the jet lag that I'd had a meal that was special, if a little OTT.
Almost 7000 miles to go eat Spanish food? Crazy maybe but you'd have to go a long way to beat Santimaria's Catalan cuisine.