When it comes to good old fashioned, south coast bucket and spade holidays, you're either devoted to Devon or have a crush on Cornwall. There's fierce rivalry between the two, not least over who owns the patent to cream teas. But on the serious food front, one county is definitely making bigger waves.
Rick Stein, Jamie Oliver, Nathan Outlaw, Tom Br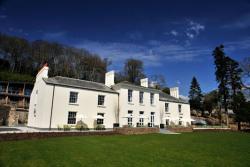 adbury. The latter might not be as synonymous with Cornish cooking as his celebrity counterparts, yet, but this 31 year-old local lad is at least the genuine article, using superb doorstep produce to create a slick but refreshingly foam-free menu at Arboretum, his restaurant at the new Cornwall Hotel Spa & Estate, Tregorrick.
Bradbury earned his stripes at The Lanesborough before returning to his homeground to head up the kitchens at the prestigious Fowey Hotel and Watergate Bay, prior to it becoming another Fifteen, but it's at the £20million Cornwall Hotel where he stands to really spread his wings and make a name for himself among the Londonweekender set, whose patronage this place is going all out to win.
Putting food on the backburner for one minute, let me describe the Cornwall's aesthetics. A curiously successful blend of country manor meets Sanderson Hotel: statement feathery light fittings, panels of opaque citron glass, dark wood, high ceilings. Bedrooms in the White House are plush and high spec, with flat screen TVs, rain showers, and princess-and-the-pea beds, while retaining period features like sash windows, fireplaces and old seascapes in gilded frames.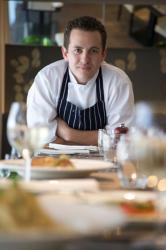 Away from the main building there's additional, more spacious accommodation in balconied cabins with woodland views and baths in the bedroom, plus a development of two or three bedroom cabins for purchase and rent as holiday homes, all finished to an impressive standard. With rooms starting from £75 rising to £159 for a suite, I think The Cornwall represents excellent value for money.
We travelled there by rail. As regular suckers for punishment at the hands of Southeastern Trains, this might seem perverse but a first class ticket on a long distance journey makes all the difference. We could have flown to New York in the time it took to get from one side of the country to the other but who's counting?
First port of call on arrival was the bar, for an eva (olde Cornish for 'drink') and a fat Newlyn crab sandwich. That dinner was only three hours away was immaterial. See crab, eat crab. The chap ordered his first of many Tribute ales, made by the St Austell Brewery just down the road.
After a dip in the lovely Clearing Spa pool, a sauna and a steam (that burns calories, right?) we arrived at Arboretum for dinner. Pleasingly it's not just the food and the chef that's local. The waiting staff are too. Everybody's fresh-faced and friendly and while the dining room is smart, the atmosphere is relaxed, as is the menu. Polished and professionally crafted, yet peppered with comforting terms such as 'rissole', 'pot roast' and 'chowder'.
The rissoles made a formidable starter: four crisp breaded croquettes of moist shredded pheasant, served with vinaigrette of lentils, parsnip puree and hazelnuts. The chowder was also a meal in itself. A sunset gold bouillabaisse with a roasted fillet of red mullet on the side, and the requisite croutons and aioli. Continuing the coastal theme I chose the pollack (mainly because writing 'pollack' and 'rissole' in the same review is irresistible). It came presented on a soupy lake of leeks, chanterelle mushrooms, spaetzle noodles and St Austell bay mussels. The fish was ever-so-slightly overcooked but the mussels plump, beautiful and in unusually generous supply. I struggled to clear the plate, something you can't often say of a fish dish.
Chap ordered the T-bone. All I can tell you was that it came from a local herd and it was enormous.
Breakfast at The Cornwall gets full marks. Anywhere that offers eggs benedict (two ways), pancakes and maple syrup or smoked haddock is alright by me. And again the provenance is evident, from the haddock to the bacon and eggs.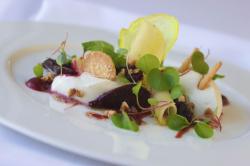 After all this grub you'll need some fresh air and exercise. It's good territory for cycling and walking and the beach is only a couple of miles away for a range of watersports. Also within striking distance are the Eden Project and the Lost Gardens of Heligan. Or you can avail yourself of the Clearing Spa health and fitness facilities, as I did. No, not the state of the art gym, a blissful hour-long full body massage (that burns calories, right?)
Dinner on the second night, featured a wonderful winter salad of glazed goats cheese, beetroot, rye crumbs, chicory and pickled walnuts. A comforting cube of pork belly followed with red cabbage, shallot compote and thyme roasted potatoes along with shoulder of Cornish lamb with mashed potato, winter greens, Jerusalem and Chinese artichokes. Having eschewed dessert both nights (shame on us), we launched a joint attack on the Cornish cheese plate, featuring Millstone, Helford blue, Smuggler and St Endellion Brie, before staggering to the lounge to loosen a couple of buttons.
If you are of sturdier constitution than I, you may be interested in The Cornwall's Gourmet Weekends where you get to cook with Tom and devour an eight course tasting menu with wines to match. £195 per person includes bed, breakfast, use of the spa and a spa treatment.
Go on and treat yourself. It's a mighty fine way to start off the year.
The Cornwall Hotel Spa & Estate, Tregorrick, St Austell. For reservations call 01726 874050 or visit www.thecornwall.com
First Great Western have one way fares from London Paddington to St. Austell available from £34. Visit www.firstgreatwestern.co.uk or call 08457 000 125.