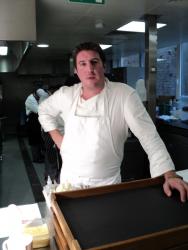 My lunch with Isabelle Legeron, at Claude Bosi's two Michelin starred restaurant, Hibiscus, was a great experience, both interesting and enlightening. I had been invited to sample the pairing of some of the Biodynamic wines Isabelle has selected for the Hibiscus list, with the excellent organic dishes on the menu. Claude having established that I had no food allergies (other than just hating coconut) I put myself completely in both his and Isabelle's hands and as a result got to taste some wonderful things.
I am told that Isabelle is France's first and only female Master of Wine and over lunch she spoke of her passion for slow and biodynamic wine production. Isabelle recently completely overhauled the Hibiscus wine list, 75% of which now is made up of biodynamic wines, principally from France and Italy. I understand that Claude Bosi was keen to work with Isabelle to develop a wine list in keeping with the principles they both share on biodynamic food and wine.
So, firstly, what is Biodynamic production? Well, to answer that question fully, I would need to rattle on for several pages, but broadly speaking it takes organic growing a step further, where composts, sprays and other preparations used on crops are developed from plants and weeds that grow on the plot of land in which the crops grow, essentially that bit of land becomes self-sufficient or self-supporting. There are various 'rules' that apply to biodynamic production, like the astronomical planting calendar and the time of day that crops should be fed with nutrients or sprayed and the time of day when crops are harvested. There are also prescriptive methods of producing preparations for crops that could easily be described as ritualistic, for example several involve stuffing various animal parts with weeds etc. then burying them for periods of time at a given depth, before digging them up and making the preparation. What I am told and have read indicates that it does bring significant benefits to the crops from that patch of land, better quality produce with fuller flavours. I understand that comparisons have been made by the same growers, using part of their land to grow crops under modern methods and the other part growing following biodynamic principles and that there has been a noticeable difference, the biodynamic crops being far better quality. And I suppose, what does it matter if there is ritual and it appears quirky? If it works, it works.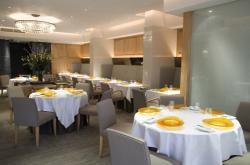 Anyway, on to lunch, something I was eagerly awaiting and who wouldn't? The promise of some great wine with excellent dishes from the kitchen of this two Michelin starred restaurant, how fortunate was I?
So, the adventure began with a glass of Cerdon Bugey, a lovely sparkling, deep rose, which had a bright cherry bouquet and big cherry on the palate. There was some nice acidity to this medium dry wine, a good freshness and lovely creamy bubbles in the mouth. As we drank this I mentioned to Isabelle that I had seen that there was a selection of orange wines on the list and having never tasted any, I was intrigued by them. Isabelle suggested that she would work a couple into the pairings she planned for each of the courses. Orange wines are made like Red wine, but with white grapes. The skins, pips and stems are left to macerate in the wine and this gives the wine its orange colour and some tannins on the palate.
Our first course then arrived, ravioli of spring onion & lime, broad bean & mint purée, this was an amazingly vibrant dish, the tangy lime in the ravioli had an immediate presence on the palate then tempered by the other flavours of the dish coming through beautifully, including the little pearls of mint caviar. This had been paired with Les Enfants Sauvages, Cool Moon, Roussillon, France, 2009, which had a floral nose that also gave the anticipation of some tang. There were passion fruit and pineapple notes on the palate, a great fresh, clean tasting wine that worked very well with the ravioli. Both the ravioli and the wine having distinctive character, yet not overpowering the other, working harmoniously together.
Our second course was Cornish black bream stuffed with morels & Kaffir lime, served with new season peas & coffee. The fish was beautifully cooked, flaky and soft, this worked well with the morels and Kaffir lime. It was nicely accompanied by the peas and the little cubes of bitter coffee jelly which gave the dish a bit of bite and a different dimension. With this we had the Domaine La Tournelle, Vin Jaune, Jura, 2003, which had a nutty aroma, like a good dry sherry and on the palate the dry sherry flavour came through strongly, a good cleansing wine that cut through the fish very well. It was during this course that Isabelle introduced me to my first orange wine, the Gravner, ribolla gialla, Italy, 2002, this had a delicate nose and on the palate was nicely dry with some light tannins. Like the Vin Jaune, this paired very well with the fish.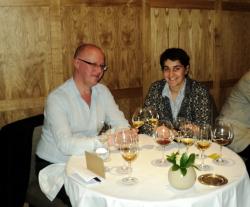 Our next course was the barbequed English kid, garlic & lemon purée, confit white asparagus, glazed winkles in salted butter. The kid, a rib cutlet and fillet was incredibly soft and tender, very delicate in flavour, much more so than lamb, and given some good subtle smokiness from its barbecuing. This went incredibly well with the winkles and asparagus, the whole dish was well balanced and given some zing by the purée. The dish was served with an individual shepherd's pie made from kid, which had a great depth of flavour but was given a little acidic sharpness by the addition of vinegar to the meat's sauce. This was a really great main course. With this we had Casot des Mailloles, El Nino, Roussillon, 2007 a deep dry red that had body and great complexity, reminding me both in its aroma and taste of a big Rioja, this matched well with the shepherd's pie, but less so with the barbecued kid. We also had a glass of AA Macea, pinot noir, Tuscany, Italy, 2006 a lighter more fruity wine which had great freshness to it, pairing very well with both elements of the dish.
For dessert we had the fine cream tart of white asparagus, white chocolate and some goats cheese ice cream, which was another incredible creation, giving a mixture of sweetness and slightly salty savouriness in the mouth, it was beautifully light and creamy. Again, we tried two wines with the dessert, Domaine de Souch, Jurancon, France, 2005, which was sweet with a good fruity acidity and went well with the dishes as a whole. We also tried another Orange wine, the Escoda-Sanahuja, Els Bassots, Conca de Barbera, 2006, a drier wine that went very well with the tart, but jarred a little with the goats cheese ice cream.
This was an amazing experience, the three hours plus that I was there seemed to fly by. With excellent, beautifully presented and imaginative dishes, great wines and very good company, what more could you expect? Hibiscus is a lovely restaurant, its exterior is unassuming and internally it has a discrete muted style that's comfortable and understated. The front of house team is very professional and fully invested in what they are doing, as you would expect from a restaurant with two Michelin stars. In talking briefly to Claude during my meal there, he told me that he sources 90% of the food from the UK through about 90 different suppliers, in order to get exactly what he needs and at the right quality. A great deal of effort goes into geting the quality of their food exactly right.
Hibiscus is absolutely a restaurant that you should have on your list of those to visit.
To read our interview with Claude Bosi and review of The Fox & Grapes follow these hyperlinks. You can also learn more about biodynamic production and find out more about Isabelle Legeron by following these links.