A haven for celebrities and royalty, Vista is a sleek and sexy roof-top venue that offers unparalleled views of London's favourite icons including Big Ben and the London Eye. Tonight we would be sampling The Hilton's new seasonal range of food and drinks, called Five Gold Rings. The menu includes three luxurious cocktails and two decadent dishes all sprinkled with real flakes of 23 carat gold.
I breezed passed a muscular golden man and a sexy shimmering lady who stood erect and expressionless at the entrance of Vista's outdoor terrace, The Trafalgar's signature bar. My main objective, as usual in these situations, is finding the path of the food trays.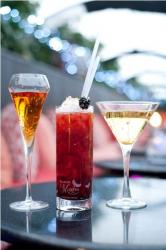 Sipping on my cocktail and looking at Mr and Mrs Gold at the entry point, I wondered what the casting call would have looked like. Would it have read, 'models required, for semi-clothed catered event, a liberal coating of gold glitter essential'?
The Golden Winter was berry delicious and it looked amazing in the highball glass, with a deep red base and lashings of ice piled on top. Made with Goslings black rum, angostura and cranberry, the juicy pieces of blackberry throughout enhanced by the Crème de Mure made this a luscious tipple, and probably my favourite of the three.
Before I knew it my cocktail was all gone and my stomach was rumbling. The food trays had eluded me. I kept seeing the folk in front of me take all the savouries that were being handed around. I had to think quick, so I grabbed a chocolate dish that was being served by Mr Gold.
The Dark Chocolate Alcazar was a slab of rich, dense, flourless chocolate cake served with a brandy snap. It was pretty special and yet not the perfect choice for dinner on a Tuesday night. When will I learn to eat before these events?
We drank our way through the champagne based Gold Desire cocktail. Flavoured with Southern Comfort and Amaretto, it was sweet and very glitzy with all the floating gold flakes. The terrace was fully covered for this evening's event, which meant that the view of Trafalgar Square was obscured. Disappointing but a necessary evil on a frosty December night.
We were kept very warm and cozy a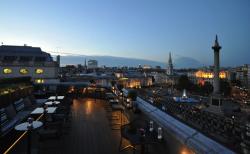 mongst the trees decked in purple baubles and with all the body heat in the room. A lucky thing really, because Mrs Gold was wearing nothing but a gold sequined superhero swim suit. She was like a golden Wonder Woman, head piece and all. After my third cocktail, the Golden Sprinter, a glorious combination of Vodka Zubrowka, apple schnapps and vanilla, I was feeling wobbly on my feet as I finally managed to put myself in the path of the savouries. I think the waiter was amused by my dexterity as I held a bacon-wrapped sausage in my mouth, clutching a cocktail in one hand and grabbing a chicken skewer with my other hand. It was all coming together nicely.
I think the Gold Scotch Smoked Salmon was the food hero of the night. Florets of salmon with shaved fennel and caper were tasty and refreshing and a welcome savoury addition after that sweet chocolate dessert.
With a sprinkling of gold over everything that night, including the waiters, Vista at The Trafalgar pulled out all the stops to create an evening of festive roof-top fun. It was like one of those Christmas parties for grown-ups. Not too heavy on the Christmas cheer but just enough sparkle to make it something special.
Vista at The Trafalgar , 2 Spring Gardens, Trafalgar Square, London SW1A 2TS, 020 7870 2900, www.thetrafalgar.com