Like most people, I don't automatically think of Harrod's when I'm compiling my Christmas gift lists, not in this economy anyway. While I love to wander around the aisles and even enjoy a snack from the food court from time to time, it's a high end store selling high end things that I can't usually afford.
So in my search for the best foodie gifts to buy this Christmas, I was surprised when I recieved my bag of goodies from Harrod's. Each of the items I pulled out of the distinctive green bag were under £20. Well under.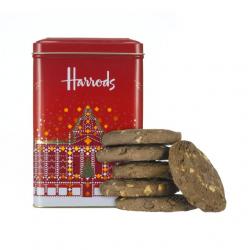 To start with I made my way through the chocolate biscuits that came inside the tea-light biscuit tin. It's a tough slog here at Foodepedia but someone needs to cut through the hyperbole and give you the real deal. The biscuits were very nice indeed. I've never been a big fan of store bought biscuits, my home cooked ones are usually better. These Harrod's All Butter Triple Chocolate and Fudge cookies were actually worth the calories. Packed full of chocolatey goodness and big enough to spread over two cups of tea, these biscuits give you two reasons to choose this gift. The other reason is that this nifty little biscuit tin moonlights as a tea light, so you can light up your own little Harrod's building on the mantle. All this for only £12.95.
The Selamlique Turkish delight is one of those special gifts that will impress the fussiest customer or the man who has it all. The packaging goes all out with a sturdy gold box and cover wrap, the sort of thing you'd expect from Harrod's. But it's the almond Turkish delight covered in rose-flavoured white chocolate and flecked with gold-leaf that really tips you over the edge. At £14.95, this gift is no ordinary box of sweeties.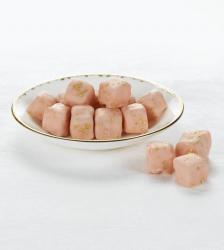 Along with other items like the Harrod's Signature Glittteratie Orange & Lime marmalade (made with edible glitter), boxes of mini-macarons from Laduree, tuffles, cheeses, crackers, chocolates and teas from all the best brands, Harrod's also stocks some interesting kitchen curiosities that could make your gift best ever. For under £20 you can buy a Himalayan Salt platter, an intriguing way to season your best recipes. Mined from the Himalayan mountain range the salt boards are carved from the sea salt deposits that have been protected from pollution and impurities for over 200 years. Or for some more salty snacking, for £11.95 you can buy a Diamond Salt & Grater and grate your own crystals of rose-coloured salt.
With this range of goodies you're bound to give any foodie friend the gift of the season or even better, you could create your own Harrod's Hamper, full of goodies from London's iconic store, with all the cache that comes with that green and gold bag but without the humongous price tag.
But if you do have a spare five thousand pounds lying around, I encourage you to browse their selection of ready-made hampers and gifts, or if you're not willing to committ that sort of cash, you can always settle for The Harrodian, for only £2500.
87-135 Brompton Road

, Knightsbridge

, London

, SW1X 7XL www.Harrods.com