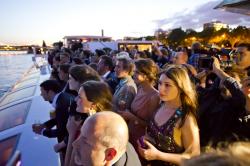 When you are as successful a brand as Bombay Sapphire you can afford to let your marketing imagination run wild. I was one of about 250 people lucky enough to be on board the luxury Thames cruise ship, The Silver Sturgeon, as it sailed from Savoy Pier to Battersea Power Station where the Bombay Sapphire team showed off its new, three-dimensional projection show after the sun had set.
You didn't need to be dosed up on gin to get the point; it was fantastically clever and the idea of projecting the show on to Battersea Power Station was inspired. It was, though, only one aspect of a mind-bending evening. And I wrote that when stone cold sober.
It started as we boarded The Silver Sturgeon – each of us was handed a small pill-like sweet which we were to suck slowly, without chewing. We'd find out why about 20 minutes later. Next came a sparkling, very chilled glass of the first cocktail of the evening, a Sweet Sapphire Collins to refresh our palates in between what turned out to be an intriguing task: sucking quarters of grapefruit, lime, lemon and orange.
I headed straight for the lime and attacked it like a school lacrosse captain attacks oranges at half time. How it took me back. And how it took me by surprise – no hint of sour, not even a hint of salt that sour often spills into. It was sweetly delicious. And so it was with the grapefruit and the lemon (I avoided the orange in case I felt compelled to tease off all the fruit, cut criss-crosses into the pith, turn it round and … yes, we've all done it and this wasn't the time, and it definitely wasn't the place, to repeat this childhood jink).
We had been given Miracle Frooties, completely new to me and clearly new to everyone else I came across that evening. They block the sour receptors on the tongue, turning everything sweet – and are a massively successful ice-breaker. Great party game, if that's what you are into and we certainly were as strangers eagerly became friends and exchanged Twitter addresses while inelegantly sucking lemons.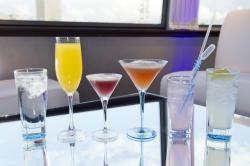 The evening flowed along nicely. Drinks were served in a strict order and not one of them was as ordinary as a tinkling G&T. Gold Bronx was my favourite, mixing Prosecco, Martini Gold, orange juice and zest, and orange bitters with Bombay Sapphire. It was a rather complicated take on a Bucks Fizz, with less fizz, the gentle citrus mixture complementing the fishy buffet and canapés (crab, lobster cocktail, curls of smoked salmon, crayfish, prawns with mayo, and a ramekin full of an utterly delicious cayenne-spiced potted shrimp of which I had more).
The idea is, of course, to encourage us to drink more Bombay Sapphire – and more creatively. In the Bombay Sapphire drinks world, molecular mixology is the latest thing, deliberately creating a multi-sensory experience that goes well beyond simple tastes, capitalising on the extra sense we all have: mouth-feel. That's how we react to temperature and texture – and it's what makes young children object to the bits in orange juice, for example. The Sapphire Moment cocktail introduced that mouth-feel challenge: a very light foam (they called it 'air") of apple and grains of paradise (one of the botanicals that gives Bombay Sapphire its distinctive taste) floated above, and contrasted with, the vanilla syrup, grapefruit juice and gin beneath.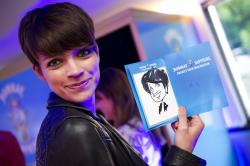 The evening should go down as a textbook example of perfect PR. Bombay Sapphire experts were around to answer questions and did so chattily and with fresh enthusiasm, as if they had never been asked our obvious questions before. On each table was a bowl of one of the botanicals that define Bombay Sapphire (ours contained knobbly orris root). In between the tables were vases, in the shape of a Collins glass, filled with whole lemons and topped with blue hydrangea heads. During the evening we were encouraged to have our photo taken in a traditional photo booth with a difference – hidden on the other side of the glass, a caricaturist churned out hastily painted visions, slipping them out to dry just as photo-booth photos do. All this and a DJ playing at a non-intrusive level, a goodie-bag for everyone to take home, and a trip on a fabulous boat – it was an unimaginably multi-sensory evening.
Mix up a couple of the Molecular Mixology recipes
Watch the 3D projection on the Bombay Sapphire Facebook page
Hold a corporate or private event on the Silver Sturgeon on the Thames
And please drink responsibly.