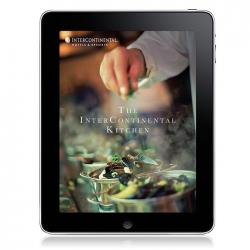 Last week, InterContinental launched its InterContinental Kitchen Cookbook iPad app, the first food and beverage app from a global hotel brand.
The free iPad app allows guests to download and share 32 recipes and step-by-step cooking guides from 24 InterContinental hotels across the world. Each recipe is accompanied by imagery and instructions to help guests recreate the hotels' food at home.
Recipes have been selected by the head chefs at InterContinental restaurants with favourites such as the InterContinental New York Times Square cheesecake, from renowned chef Todd English, and the InterContinental Berchtesgaden Resort's salmon trout, developed by the hotel's Michelin star Head Chef, Ulrich Heiman, available to download.
Simon Scoot, vice president, global brand management, InterContinental, said: "Following great guest feedback on our concierge iPad and hotel booking apps, we've launched the InterContinental Kitchen Cookbook iPad app.
"This showcases some of our favourite recipes from our world class chefs and people can now take a taste of InterContinental home with them when they leave our hotels."
The InterContinental Kitchen Cookbook app is available to download for free from the App Store or from www.intercontinental.com/cookbookapp with new recipes added every three months.