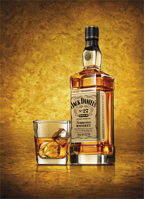 There's a brand new expression by Jack Daniel's Tennessee Whiskey, known as No. 27 Gold. This special liquid is double barreled and double mellowed. Perhaps aimed at the older, more mellowed rock musician? 
This new, ultra premium edition of the Jack family has been created with luxury in mind. Crafted to the same standards as Jack Daniel's Old No.7, the new luxury expression, Jack Daniel's No.27 Gold Tennessee Whiskey, has been conceived to offer Jack Daniel's aficionados and luxury consumers an ultra-smooth expression of the original experience.
This expression earns its name from the double barreling and double mellowing of the Old No.7 whiskey, which sets this rare spirit apart. The result of the second mellowing and second finish in a maple barrel is a warm luxurious celebration of one of the world's most beloved whiskeys.
Jack Daniel's No.27 Gold has been crafted and created to enjoy with friends and loved ones. To help celebrate these moments of indulgence, the first 27 online purchases from Harvey Nichols will receive a personally engraved luxury decanter, perfect for those evenings spent at home, treating your guests to the ultimate indulgence. Buy from here
Jack Daniel's No.27 Gold Tennessee Whiskey will be available exclusively in-store and online at Harvey Nichols from October, priced at £95.00.