Avoiding setting herself on fire, Anita meets food writer and cook Malika Basu to make dishes with Tilda and gets a great recipe too.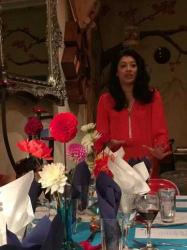 I'd walked past the very little door of www.thelittleyellowdoor.co.uk four times, like a female Mr Bean, before I spotted the Tilda rice representative ushering up the Indian food afficiados.
Up the narrow and secret staircase, glamorous food writer and cook Malika Basu was spinning the rice into a medley of dishes. We sat in a disheveled and eclectically charming'flatshare' spoof, all gilt baroque mirrors, ethnic textiles and yardsale furniture. A bit like a student house in Leeds circa 1997. Not that I'd know of course.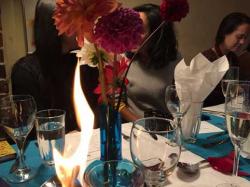 I also unwittingly set fire to my napkin and was merrily trying to photograph the prettycandle flame against the aubergine curry (I'll never succeed at this blogger lark) when I was snatched from the jaws of hell with moments ticking.
Drama over, Mallika Basu wanted to show us how rice can be used in a much more versatile way than simply as accompaniment to curry. So we tried some very good uttapam blinis made from pulverised rice topped with gingered onion and tomato (see recipe below).
Accompanying some brown basmati khichri with dal and a wild rice pulao was a delicious Bengali Chingri Malaikari – which translates as creamy king prawn masala in coconut. Basu is half Bengali and shows those influences.
Another winner was the Hyderadi Khatta Meetha Baingan – spicy sweet and sour aubergines in peanut sauce, which, she admitted, contained a jar of crunchy peanut butter. Coupled with the yoghurt, these silky purple purses were excellent. I'm chasing a recipe for that. In the meantime, maybe try the uttapams…
South Indian Uttapams
Created for Tilda® by Mallika Basu
Uttapams are one of South India's fermented rice and lentil delights. Gluten free and wheat free, they are incredibly moreish as a brunch staple. My recipe is more of an "instant" version, which also doubles up as a handy batter for Indian blinis.
Makes 8 large pancakes or 20 small blinis:
For the Uttapam
150gm Tilda® Pure Basmati Rice
50gm Urid dal (skinless mungo beans)
1 cup water
3 tbsp Greek-style yoghurt
1 tsp baking soda
Oil (sunflower oil spray works well)
1 tsp salt
For the topping
2 medium onions
2 medium tomatoes
1 tbsp grated ginger
Handful fresh coriander
Half tsp chilli powder
2 tbsp oil
Salt to taste
Wash the rice and lentils thoroughly in a sieve until the water runs clear, then drain and leave to soak in a cup of water for between 1-4 hours. When you're ready to cook, first make the topping. Slice the onions and tomatoes and roughly chop the coriander. Bring the oil to heat on high and sauté the onion and ginger in it until golden, and then gently toss in the tomatoes. Turn the heat off.
Now, put the rice and lentils, with the water they are in, into your blender. Add the yoghurt and salt and whizz on the highest setting until you get a smooth batter. Next, mix in the soda.
To assemble the pancakes, bring a frying pan (or blini pan) to heat with a good spray of oil. Warm to medium and spoon in about a small ladleful of the batter, then quickly cover for a minute. Take the cover off, little holes should have appeared on the surface.
Spoon some of the topping before spraying more oil and flipping it over carefully for another minute. If you are using a blini pan, it's easier to just drop the topping on later when they are cooked. Repeat until the batter is all used up.
More recipes