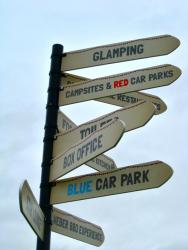 At other festivals you've either got good food or good music, but at Jamie Oliver's Big Feastival, punters don't have to sacrifice one for the other. You can wander around the food stalls while waiting for the next act to appear on stage. It seems like a brilliant idea really, and Jamie Oliver and Blur-bass-man-former hedonist-now-family-man-and-cheese-maker Alex James have got the recipe right.
I turned up in the AM with my family in tow, after all, it was a family-oriented event. With both Jamie and Alex each with their own gaggle of little ones, the Feastival provided well for kids. Welcomed with brightly coloured bunting and giant bubbles hovering over our heads, the organisers set a festive scene.
The dedicated ankle-biters arena was the place to be, with a massive circus tent hosting Peppa Pig photo opportunities, circus activities and face painting that had a queue a mile long and only one girl painting faces. We had a go of the helter-skelter but at £2 per slide, we avoided the spinning tea cups, swing chairs and vintage boats and opted instead to find the source of all the bubbles that were floating in the air.
The Big Kitchen tent hosted celebrity chef talks from the likes of Valentine Warner and Gennaro Contaldo. Bill Granger was flipping steaks when we walked by and the big man himself Mr Oliver was due for a talk at 1pm, but by then we were too busy filling our faces at the various food vans and market stalls.
We wanted to try Mark Hix's fish dogs, but the lines were too long and we're not the queuing type. So we went for regular hot dogs instead. But it turned out they were far from regular. Our £5 Barbecoa hot dog consisted of a homemade frank, sauerkraut and various gourmet condiments.
There was excellent bar representation with a number of tents spread out across the field selling everything from Kamm & Sons gin to Bloodshot Bloody Marys, a dedicated Vestal Vodka bar, Wychwood Brewery caravan and not to mention a Birra Morreti tent and the obligatory tiki bar.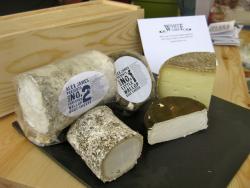 The artisan market stalls turned out to be my personal favourite, and there was a pretty good selection of vendors. The bright red Churros Garcia van caught my attention immediately and I grabbed a cup full of fried Spanish treats. There were fresh meat vendors which seems like a strange idea for a festival, but a few feet away stood Weber BBQs at the ready, waiting for BBQ fanciers to take advantage of their gourmet meat purchase.
The stage was not fully set for the evening's entertainment, rather it was appropriated by unlisted acts who played in sets that were sparsely strewn throughout the day. But the bands who did play were really impressive and should have played longer because they added a party atmosphere to the daytime crowd who could have used a little push.
So my tip for next year is bring seating. There was not nearly enough seating and tables to accommodate a largely gluttonous crowd. Take a mud-proof blanket and park yourself near the stage to enjoy the music through out the day. The highlight for me was tasting and buying some of Alex James' (very impressive) goats cheese and getting a gander of the man himself, still cute, still slim and still hiding behind his floppy hair.
A good time was had by all, and I have to admit that my only regret was that I couldn't stay longer. Combining good food and good music is a rule of thumb for any dinner party host, so it's good to see festival hosts taking this recipe for a good time on board.