9 Knightsbridge Green, London, SW1X 7QL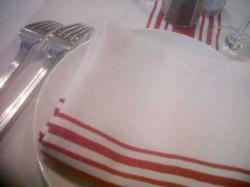 Here's a fact, if you want to find the kind of French restaurant that glovely fits the cliché of what a French restaurant should be – inexpensive, unpretentious, a little bit quirky and serving delicious food  – you're better off not going to France.
Don't get me wrong I'm a true Francophile, I've even done the'buying a wreck and fixing it up' thing. I spend a lot of my time out there and I know that things aint what they used to be, not unless there's a middle-class Anglais population around to keep the restaurants up to snuff.
That's not to say you can't find a decent place if you really look hard enough of course, but it won't be cheap and the chef will probably be Eastern European. Those boys have really nailed the art of making decent meals out of cheaper ingredients because under socialism they had no choice. Chabrot (it means using your wine to swill out your soup dregs before noisily drinking the lot) gladdens the gut even before you sit down. You can literally smell it's going to be good and what's more it looks the part as well, all rough fabric cloths and napkins. If you do your research you'll find the people behind it have impressive CVs too, but you don't care about that so I won't mention their names. What's on the plate is more important than what's on the lease after all.
Right now Chabrot has teamed up with Provence winery Château Léoube to create a menu to complement the Rosé de Léoube. 'A Taste of Summer with Château Léoube', which runs until the end of September offers a choice of any three dishes for £11.50 per person, or any five dishes for £13.75 per person, served up with a glass of Rosé de Léoube. Sounds alright doesn't it? Well let's see.
Squeezing past tables set snugly together and sucking in my stomach hard, I get a seat in the corner where I can see and, unfortunately hear, some shaven headed berk pontificating. He's probably from the local ad agency where I once freelanced, a place where creative talent went to die. Everyone there claimed to be trying to escape, but the sad truth was they stayed because no one else would employ them.
Blocking Mr Mouthy out by sheer willpower, J and I pick five dishes to share, and toy with some decent rustic bread and a glass of the Rosé as we wait. It's an unusual wine in that the vineyards are close to the sea, which adds an extra dimension to the taste, possibly salt? I'm joking, it's light and fruity and really very pleasant. Dishes are soon landing on the table, brought by waiters who have the right mix of cocksureness and desire to do a good job.
Smoked herrings with warm boiled potatoes and doused in vinaigrette are lovely. The spuds cooked just enough to allow the flavours of the fish and vinaigrette to soak in without disintegrating.  We scrape up the bits left. Next to this are three halved bones with delicious marrow jelly inside and unlike at, say St John who make you work for your meal, it's easily scraped out and slapped onto the bread. Marvellous stuff.
A tomato salad is just that, redly ripe toms and a sharp dressing like maman used to make, but what's that lovely smell? Ah escargots, sizzling hot and putting out enough garlic fumes to stun Nosferatu. These don't appear to be those bought-in shells that get re stuffed either; the fight to winkle the meat out suggests the real thing and the battle is worth it
Homemade cured salmon, black radish salad is simple, what lifts it up is the crunch of that radish and the granules of red peppercorns. These deliver something extra on the tongue, a tingle and light fireworks. Aubergine salad, fresh goats cheese with basil is a bit dull, the fresh goats cheese is deliciously creamy and with a subtle goaty tang, but the aubergine desiccated.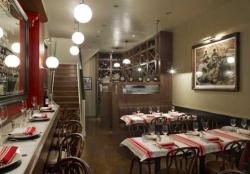 Quite stunning is warm duck liver paté, with Comté cheese popover. This latter is essentially a Yorkshire pud made with cheese, and when you spoon the lumpy, capery, tangy pieces of pan-fried liver onto it and pop in your mouth it's a quick trip to the south west of France.
We left the board of charcuterie until last, a good mix of fine meats with croquante cornichons and some wonderfully greasy, in a very good way rillettes pate. All good to the last slice.
This is what I miss in France so much these days: quality cooking, fairly priced, cheerfully served. The good news is that I can get it via Knightsbridge tube and not the chunnel.
'A Taste of Summer with Château Léoube' will be available at Chabrot until 30th September, on Monday to Sunday 12.00pm – 6.30pm. The menu is for a minimum of two people and includes the choice of any three dishes for £11.50* per person or any five dishes for £13.75* per person, each served with a glass of Rosé de Léoube.