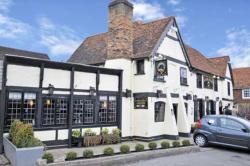 Heston Blumenthals award-winning pub, the Hinds Head in Bray, is celebrating its rich 600-year history as a pub with a special Hinds Head Through the Ages dinner on 17 September.Head Chef Kevin Love has created a 4-course tasting menu taking a gastronomic journey dating as far back as the 15th century with Pomme Dorres, based on a recipe from King Henry VIIIs Tudor court. Hinds Heads version is a chicken liver parfait dipped in a gel flavoured with Granny Smith apples and shaped to look like the fruit itself.
The main course brings us to the end of the Georgian era with Veal a la reform, named after its sauce which was created by Alexis Soyer in 1830 at the Reform Club in London and contains several ingredients including ox tongue.
Chocolate Wine Slush with Millionaires Shortbread, inspired by a recipe from the 1660s, is the evenings third course. The doctors of the day believed that blending wine and chocolate created a powerful aphrodisiac, and thus chocolate wine became an extremely popular dish of the time!
The dessert course, Perfection Strawberry Trifle with strawberries, saffron and black olive, brings the menu to present day, having been created by Heston in 2008.Not to be left out, the bar team has created a cocktail for the occasion, called Mothers Ruin.
Served in an antique punch fountain, the punch is made with ginger syrup, cherry liqueur, grapefruit syrup, Champagne and of course, gin.The dinner begins at 7:15 pm, with guests arriving from 6:30 to enjoy a Mothers Ruin at the bar, or perhaps a pint of ale from a local brewery.