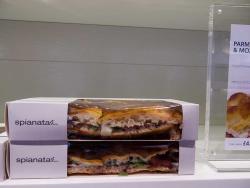 Urban legend has it that we at Foodepedia eat a three-course lunch every day at a decent restaurant and stagger back to the office at around 3:30pm. This isn't true of course; we don't do that every day.
On our off days some of us go to a famous purveyor of cold and wet sandwiches, while I go to Greggs for a Steak Bake washed down with our wine writer's cider recommendation. We never cross the dividing trench of Regent Street to enter the Narnia of Mayfair, until now.
Armed to the teeth and ready to deck any floppy haired hooray who challenged us, we marched to Spianata&Coin Hay Hill. Already doing well across London (Platinum winner of the 2012'Best Independent Sandwich Bar of the Year' from the British Sandwich Industry, Gold winner in the Great Taste Awards 2011 for its own-baked bread, and quoted with typical youthful élan by Harden's 2012 as'Panini heaven') it sounded worth the walk.
It certainly looks the part; bright, white and modern. They quite rightly don't believe in refrigerating their'sandwiches' and instead lay them out on shelves so that the shop resembles a kind of Benetton of food. Presumably they don't have someone to refold the boxes though. They don't need to refrigerate the product because the bread is baked right up until 11 am and then filled when cooled so as to meet the lunchtime rush precisely.
The bread is Roman, which is to say a Rome speciality and not something dug up by Baldrick on Time Team. Pizza Bianca Romana is baked in two metre long, 30 cm wide slices and cut horizontally for filling. The outside is golden and crunchy and the fillings we found to be a mix of good tradition with innovation and, weight watchers will be pleased to hear, no butter or spread.
Prosciutto & Mozzarella is such a classic, but it doesn't taste any the worse for that and the prosciutto here seemed to be averagely aged, so that it was soft but not overly assertive. Prosciutto & Carciofini (Parma Ham, Artichoke Hearts, Parmesan, Black Pepper & Wild Rocket) was an interesting mix, the artichoke hearts soft against the spike of the pepper and rocket and the umami of the parmesan.
Speck, Gorgonzola & Pere (Smoked Mountain Ham with Italian Blue Cheese & Sweet Pears) was my favourite, pears or apples with blue cheese have always worked well as they tame the bite of the blue perfectly. I'm not a great fan of Speck, but this did have a lot more flavour than most.
We also tried their multigrain versions, even though the word'wrong' was leaping out in neon letters. Multigrain anything always tastes of sandals and sanctimony to me, and the grains get caught in my teeth. They were all right and I dare say some people will like them a lot, but for me it wasn't a winning idea.
We did like the drinks on offer, a peculiar no label drink called Cedrata was delicious as was Gazzosa  and dividing opinion heavily was Chinotto, a strangely medicinal tasting drink that had people thinking of similar odd drinks such as IrnBru and Sasparilla. I quite liked it but I'm not sure I'd cross Regent Street again for it.
I would go back for the sandwiches and, from the look of them, the soups and hot plates of pasta too. The sandwiches rarely break the £5.00 barrier and when you think what the'classier' sandwiches in Wet a Manger cost that's pretty good value.
Spianata&Co®  City shops are located at Holborn Viaduct EC1, Blomfield Street EC2,  Watling Street near St Paul's EC4, Brushfield Street at Spitalfields Market E1 and at More London Place at London Bridge, SE1