This article must begin with an apology. A heartfelt sorry to Anjum Anand's scampish daughter for crashing her family lunch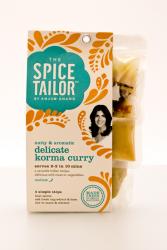 and making a vast dent into her pile of fresh roti and keema peas. It's almost as criminal as taking candy from a baby. But, in my defence, you just weren't showing due appreciation for how deft your Mum is in the kitchen. Yet. But you will. Her flaky parathas and vibrant veggies will win you over.
You were almost sold by dessert- indeed, none of us could resist seconds, thirds, perhaps even fourths of her Eton Mess- a pud, up till now, I'd happily go without. But, tumbled with mixed berries and cleverly spiked with star anise and fragrant violent syrup, capping a feast that has me waddling down the road, it's a memory I'd happily dine out on for weeks.
Those clever twists are a common theme in Anjum's food. All-too-briefly showcased in her BBC TV series, the cook treads a rare and happy middle path, interested in history, culture and lore, yet intently focused on modernising, fusing and exploring ways to innovate. But never, she emphasises, at the expense of good taste- a mantra I, merrily Tweeting away as @TheSpiceScribe, abide by at all times.
Good taste, Anjum opines, should be the preserve of everybody- regardless of time and skill. It's for this very reason that she recently launched'The Spice Tailor'- a range of kits containing both sauce and whole spices, enabling simple preparation of unusual, perhaps somewhat daunting regional Indian recipes like'Keralan Coconut' or'Mangalorean Herb' curries.
Anjum's just returned from a trip to the factories in India, where she's been overseeing a few new recipes and tweaking the existing ones. Her hope is that the range will get people as excited about the diverse cuisines of the subcontinent as she is- and, with the mark of someone more concerned with inspiring than pure moneymaking, perhaps even get them cooking from scratch next time round.
And if she does tempt them into the kitchen, they could do worse than equip themselves with a copy of 'Anjum's Indian Vegetarian Feast'. Down to earth, homely and none the worse for it, these recipes span breakfast, lunch and dinner, fusing Indian family favourites and regional street snacks with thoroughly British classics. The results are appetising, somewhat offbeat, and joyfully undaunting. They might even get a few flesh eaters to down their drumsticks.
Anjum's good kitchen company- coercing; instructing; gently ribbing, as I make my first attempts at rolling and coiling a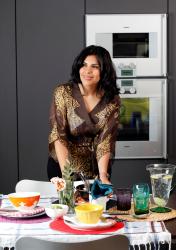 paratha. She reckons mine's come out better than hers- oh, stop. You'll have me blushing in a minute. She cubes fresh-made paneer, inviting me to taste and mentioning that she'll happily eat it simply dressed with good olive oil and black pepper. Today, though, it's dunked into'The Spice Tailor' Tikka Masala sauce.
She'll be offering similar guidance to a wider audience, too, this Autumn, when'The Spice Tailor' range will be showcased over eight 'Spice Nights'- a series of cook-along videos streamed over the internet. The culmination will be a lavish Diwali celebration, and today the living room table's strewn with colourful diyas- pretty little candles- in preparation for the shoot. I offer my services as an extra- I like festive feasting.
Or any type of feasting, actually, which is why I feel the need to eat humble pie- yes, more food- having hoovered up the kids' meal. I'm sure one day they'll be just as sold as I am- logged on, signed up, 'The Spice Tailor' sauce and ingredients at the ready, eagerly awaiting instruction. Or else they'll just ask Mum to rustle up one of her legendary lunches. Lucky so-and-so's.
The range of Anjum Anand's 'The Spice Tailor' sauces is available to buy in Waitrose and online at www.thespicetailor.com
'Anjum's Indian Vegetarian Feast' is available from Mid-September, published by Quadrille.
Anjum's 'Spice Nights' will air from September- sign up at http://www.thespicetailor.com/SpiceNight/Registration/