Spice boffin John Gregory-Smith tells us all about his new book – and just how mighty spices can be.
Following a cook book recipe can sometimes appear exclusive, even for more experienced cooks, with instructions that seem to assume readers know of, and frequently use the rare ingredients required to cook a featured dish.
To make things worst, these types of ingredients are just not conveniently stocked in the local supermarket (try asking for Wasabia Japonica in Morrison's, for example), so the pursuit involved to hunt them down can prove a challenge.
But at last: a cook who recognises and opposes this very dilemma. John Gregory Smith – a food entrepreneur and trained chef – has created Mighty Spice, a straightforward, easy-to-follow cook book with recipes that require spices most of us will already have in our cupboards, or that will at least be stocked at the corner shop. It's John's mission to 'demystify spices for everyone", keeping ingredients simple and accessible.
John describes his new book to us as essentially a basic introduction, focussing on integral spices listed in a 'Spice Directory', which serves as a guide while offering relevant history and facts that won't, as John says, 'bore people" but will "just get them cooking and trying them."
The book's featured cuisines derive from all over the world: India, Thailand, Sri Lanka, Mexico; and guarantee a variety of dishes with simple but different flavours in a bid to meet the tastes and aptitude of anyone that picks it up. With a standard cookery book format, including poultry, meat, fruits, salads, and cocktails, there's over 100 recipes that won't lead to a chase for ingredients but offer something for both inexperienced but also more skilled cooks.
'I wanted to use this book to introduce spices very gently," asserts John, 'so none of the recipes use more than five per dish – which includes fresh ginger, fresh garlic and fresh chillies. It's the basics – you can just go into the supermarket and buy the ingredients. It's very simple and I think having that ease of purchase is important for confidence so people will want to give the recipes a crack. But you can do a lot of different things with the book."
As the founder of The Mighty Spice Company – a range Sainsbury's customers might recognise from a few years back – John has spent the last decade travelling the world, immersing himself in the customs of diverse cultures and recognising the distinct use of spices within them.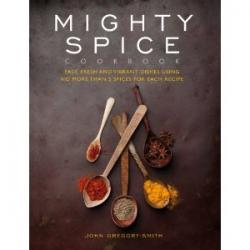 'Travelling reaffirmed how important and integral spices are to cooking in so many places in the world," he says. 'They really are used – in everything from drinks to food to medicine; everywhere. They are essential in people's trades so it was really interesting to go to those places and see how important they are to the people. It's great to go to where food is such a vital part of life and culture – it was fascinating."
It was with this gained knowledge and passion for spices that sparked John to write Mighty Spice, while at the same time producing features for magazines and consulting food and drinks brands. But the fundamental thing he recognised was that not everyone has the confidence to use or even access to some of the more exotic and rare spices he came across while travelling, a factor some cookery books don't seem to focus on.
The opening page in Mighty Spice promises 'fast, fresh, vibrant' recipes while using ingredients that are easy to track down and simple to cook, giving readers no excuse to discard them. He insists everyone should try new spices, giving some invaluable advice: 'Buy a couple of spice pastes like garam masala, some cumin seeds, curry powder and don't be scared of them – the lighter spices have a mild flavour to them so they're not going to kill what you cook."
With the new book release, the Mighty Spice chef also has plans for a television series later this year, which he hopes will reinforce the message of getting people more immersed and enthusiastic in the use of spices. With a taste of what to come previewed on You Tube, things are heating up for the emerging chef, who plans to get back out in the world to discover new ideas for recipes before the year is up.
'I loved writing my first book, I had a great time and I've been very lucky. The publisher and I are throwing together ideas for a second one at the moment – basically as an extension of the first – so I would love to be doing that at the end of the year. I'd definitely love to go travelling again too. I really want to go to Iran, to see the crocuses flower in October/November – their winter time – and I'm really keen to kick start my new book there while learning about some really cool Persian food."
You can see John Gregory-Smith in action at the Leiths School of Food and Wine on 21 July 2011, for infomation about this and booking, go to the Leiths site
The Mighty Spice Cook Book is out now from Duncan Baird Publishers, London. For more information on the Mighty Spice chef, visit the John Gregory-Smith website.
{ISBN:1844839915}