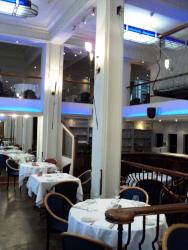 There are a fair number of city restaurants that now occupy spaces previously created for financial institutions; Caravaggio, in Leadenhall Street, is one of them. I love these old buildings, their grandiose decor an echo of past opulence, they're just so interesting. And in constructing Caravaggio within this old banking hall, those planning it at the time made great use of the double height ceiling by building a mezzanine floor with a bold staircase leading up to it. This not only provides the restaurant with additional table space, it allows customers to see the intricacy of the beautifully preserved cornice work up close, and there's a lot of it. Caravaggio opened in 1996 and much of the work that was done at that time still exists, it has to be said that one or two features are a little dated, or at odds with the rest, but the whole thing comes together pretty well, it's a spacious restaurant that has a good relaxed atmosphere.
We had a glass or two of Franciacorta sparkling wine at the bar while we studied the menu and like others we were brought some lovely juicy marinated olives and deep fried courgette to nibble on as we did, a great way to select your meal. Choices made and accompanying wines selected, we were seated. Some good bread and fruity olive oil was brought to the table together with the two glasses of wine that were to go with our first courses.
Starters of herb crusted beef Carpaccio and lobster linguini, one of the day's specials, arrived. The beef Carpaccio was beautifully laid out with some salad leaves and a generous scattering of shaved parmesan and some drizzled olive oil, a classic way to serve the dish. The meat was divinely tender with good flavour, the slightly tangy parmesan complementing it well. The lobster linguini was great also, little chunks of the crustacean in a great creamy/buttery tomato sauce that not only tasted good it felt great in the mouth. The linguini, which we were told is made in house, was perfectly cooked, al dente as it should be. Both dishes were little short of excellent.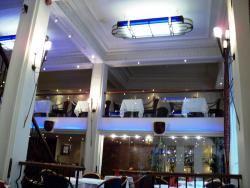 Mains then came, and the lemon marinated chicken breast was beautifully tender with some good juiciness to it. The hint of lemon from the marinating process gave a little fresh lift to the already tasty chicken breast. Accompanied by some buttery new potatoes, this was a very nice dish indeed. The sautéed veal chop, was modestly described, to say the least; it was in effect a T bone steak that was about an inch thick! I have to say I gasped a little when I saw it. The meat was good and tender, it was served medium rare and although the outer edges were more medium, it was nevertheless a juicy hunk of meat, its flavour enhanced by the butter and sage it had been dressed with. This came with some good chips and to augment these two dishes we had ordered some French beans; we felt we needed a bit of green and these were cooked well, leaving them with a little bite.
It has to be said, here and now, that both the starter and mains portions were generous to say the least. I didn't quite get through all of my veal, but I was determined to sample dessert. So after a decent interlude we chose from the dessert menu. I had a passion fruit frozen mousse, a bit like a semifreddo, which was exactly the right thing; although creamy, it had a very nice refreshing tangy acidity to it, which was just what I needed after the meat-fest I hadn't quite finished. The rhubarb and apple tart was equally a great choice, the tartness of the fruits that had been dressed with some lemon also made it a zingy mouthful.
We had wines by the glass during our meal at Caravaggio, a crisp Sauvignon Blanc with the linguini and a light but fruity Valpolicella Classico with the Carpaccio, we each had a glass on Montepulciano D'Abruzzo with our mains, all three paired well with the dishes. There's a reasonable selection of wines to choose from by the glass and by the bottle. Service was very good throughout the meal, the staff there talked to us about our choices and wines that might work well with the dishes we'd chosen.
We had a great evening at Caravaggio, the food was very good, though as I've indicated, on the generous side. So if you want to make it through to dessert, do discuss your choices with the staff there.