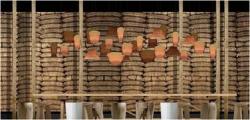 London's first Som Tam bar, SUDA, will open in September 2011 in St Martin's Courtyard, a new development in Covent Garden off Upper St Martin's Lane.
It will offer a regional Thai, all day dining menu including Som Tam, a spicy salad and one of the most popular dishes in Thailand, made predominantly from shredded un-ripened papaya.
SUDA's menu will mix traditional with contemporary dishes including variations of old favourites (such as beef sirloin green curry and papaya pad Thai) and more modern dishes (including grilled lamb chop and tamtang – a spicy cucumber salad). It will also fuse regional specialities with exciting versions of traditional Thai street food (crabmeat cigars and fish and prawn cake lollipops).
Spread over two floors, the restaurant will have a bar and some seating on the ground floor; upstairs will be the Som Tam bar and a glass clad open kitchen so you can watch the chefs at work. Floor to ceiling windows overlook the courtyard and give an uninterrupted view down to Long Acre which is just a minute's walk away. It will be as interesting for its design (a collaboration between the renowned Bangkok based design firm IAW Design and UK design agency Harrison Design) as for its food (created by S&P, the company that owns London's well-regarded Patara Thai restaurant).
SUDA will be open from 11am seven days a week and will be as suitable for a quick salady lunch or anytime snack as it is for a three-course dinner. If being one of the first to try new foods is your priority, make a note to eat there the minute it opens in September.
23 Slingsby PlaceSt Martin's Courtyard London WC2E 9AB