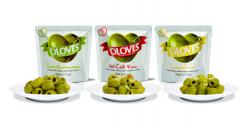 The tasty olive snack, with only 50 calories per 30gram bag are imported from as far as Spain and Morocco with the Oloves Company dedicated to finding you the best tasting olives and ingredients low in saturated fat and free of preservatives to go in their liquid free pouches.
The subtle seasoning of the herbs and spices adds to the natural juiciness of the olives creating a tangy blend of flavours. The olives are also high in vitamin and iron content, which means not only do they taste like they've been freshly picked from the Olive tree, but they're promoting healthy snacking too.
The Oloves company are currently amidst launching an olive called 'The Californian Ripe' a black olive which they hope to produce before the end of the year. To get your hands on a pack today head down to Holland & Barrett where you will find a selection of tasty flavours to choose from including: Tasty Mediterranean, Hot Chilli Mama and Lemony Lover.