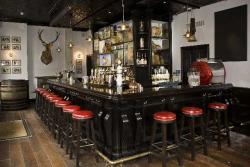 It's become a regular event on the food reviewer's calendar – the opening of yet another Tom and Ed Martin enterprise in London. And this time, it's the gastropub in the City – the Jugged Hare. It takes its name from an18th century recipe created by Hannah Glasse, the UK's first and foremost domestic goddess, apparently.
This soft launch was just canapés so we only got to taste weeny morsels but the deep-fried black pudding was mischievously fruity and the air-dried Welsh ham quite wonderful.
With a focus on seasonal British dishes prepared using traditional cooking methods and independent boutique wines, the Jugged Hare has a pub, spacious dining room with white butchers tiles and loads of copperware, complete with an open theatre-style kitchen and an impressive vaulted private room downstairs.
There is the obligatory taxidermy – we identified stoats and pikes – in a wall of glass tanks at the bar. The dining room, once the barreling room of the brewery, features exposed ceramic tiles on the vaulted ceilings and walls and oak timber floorboards throughout.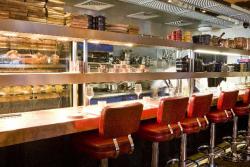 Vibrant red leather banquette seating and comfortable stools at 'the pass' allow diners to watch head chef Richard O'Connell and his brigade in action as they prepare food on a state-of-the art eight-spit rotisserie and a charcoal grill.
As well as jugged hare, which will always be available during the hare season, the menu offers loads of meat, offal, game, wild fish and shellfish. Starters include Bath chaps served with langoustine; crisp bone marrow with shallots and capers and a wild garlic, turnip and leek broth.
The mains definitively split into four sections: Rotisserie, Grill, Pot Roasts and Billingsgate. Choices from the spit vary day-to-day but might include Yorkshire wood pigeon and lentil dripping or Iron Age pork tenderloin with apple caramel.
Pot roasts include an oxtail, kidney and tongue hot pot and pot roast quail (for two or more) with smoked bacon, chestnut mushrooms and potatoes. The final selection features roast pollock with fennel, dandelion and blood orange salad and a monkfish tail with cockles and caviar butter, direct from Billingsgate Market.
Puddings are quintessentially British with choices such as chocolate Kendal mint cake parfait; treacle tart with Jersey cream or a lemon junket with blood orange jelly.
So, British, meaty and probably quite 'male" City food although I'm not sure jugged hare, as a dish, is preferred by any gender.