We're treated like so many Shahs from the off, which is always nice. A table laden with cocktails greets us- with the appropriately-monikered Maharaja Fizz amongst their number. More often than not, 'fusion' and 'cocktail' are two words that have no business being in the same room, let alone sharing glass space. Curry leaves? Fruit chutney? You sure? As soon as you sip, though, all images of someone dropping your tea in your bubbly are dispelled. This works.
And food is no different. To the ambient strains of a languorously-strummed sitar, we scrunch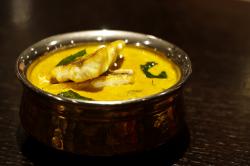 pappadums into tangy pineapple chutney and gorkeri- a sweet, sticky mango honey-trap. Snacky, sharing starters are squabbled over; cream-marinated, succulent malai tikka; crisp vegetable potli; and top-drawer bhel poori- a beautiful, confounding sensory riot. Tandoor items- prawns and lamb chops- are crusty, smoky, primal.
Flavours are all present and correct. Bang, bang, bang. Kewra scents the biriyani so richly it smells like an Indian sweet mart when the dum phukt crust is pierced. Chat masala seasons squid with that distinctive, addictive sulphurous pungency. Butter chicken uses no such thing- this is sinfully, rightfully laden with pure ghee. There's a little more of that fusion in a green bean and water chestnut poriyal- combining a Tamil cooking technique with the produce of the Himalayan foothills to great textural effect. Inspired.
Goan beef sukha, Keralan sea bass curry, green-marinated salmon hariyali- our culinary romp across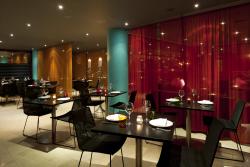 the subcontinent continues. Breads are fluffy, chewy and perfectly placed for scooping up almost meaty dahl makhani. This is palatary dynamite, delivered by far more than simple chilli heat. Complex nuances abound- musky tumeric, the citrussy bite of curry leaf. Aromas, textures and tastes are, quite simply, consistently and resplendently on the money.
Desserts are almost superfluous- and that coming from someone who would often happily forgo a main course for an extra helping of pud. Nonetheless, pistachio kulfi, mango and cardamom brulee and a and fennel-spiked bread pudding- a riff on the classic shahi tukra- are all devoured. With a final swipe of a finger through the ginger custard, a meal fit for any Maharaja comes to an end. The sitar plays on, but this food speaks for itself.
Carom is now also open at lunchtimes, Mon- Fri, from 12pm to 3pm, offering hungry diners Balaji Balachander's menu of wraps, lunchboxes and daily curry specials. With prices ranging from £4.50 for a paneer wrap to £8.45 for a lamb lunch box, supplemented by a range of mocktails, it's a decent budget option in a pricey area.