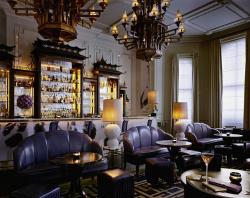 There's a lot of sex in afternoon tea. It's cutesy little sandwiches and pretty pastries, tiny bites of deliciousness and elegant, naughty flutes of champagne. The whole thing revolves around an onslaught of food quickies somewhere between lunch and dinner.
Afternoon tea, apparently, was the idea of the 7th Duchess of Bedford. She would invite all her chums round and they'd sip tea and munch cakes in her boudoir. Her boudoir! If that doesn't scream girls in their sexy Victorian smalls having pillow fights, I don't know what will. I bet those Downton Abbey folk were scoffing pastries and teeny sandwiches every moment they had between the scandals (not really that much).
It'll come as no real surprise then, that I had a bit of a Meg Ryan moment in the Langham's Artesian bar. It was their egg mayonnaise with black truffle what done it. It was, in true afternoon tea style, fabulous. A two-bite, slightly sweet, brioche-like roll filled with duck egg mayonnaise, caviar and slithers of the fantastic fungi. My dining companion thought I might have been having some sort of fit.
The bar, with its dark, Oriental tones, pagoda-esque facades and leather floor, screams (like Meg again) of decadence and naughtiness. And the drinks are just as bad, in the best possible way. We're here for the G&T Tiffin though. Indian inspired, it comes with a G&T Afternoon tea with Beefeater 24 that is ice cool and refreshing.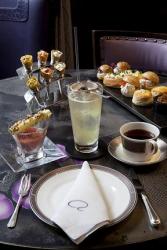 Mixed with a blend of botanicals, you're presented with those used in the drink (fresh lemon, grapefruit peel, juniper, angelica, Sencha and green tea) in a silver tea strainer.
Alongside that there is, despite their appearance, a formidable feast of yummy tidbits. Three sandwiches and three cones contain a mix of exciting treats that include gin cured salmon, lobster and, of course, the awesome truffle. Did I mention how much I liked the truffle? I did? Oh.
As well as the cones and sandwiches a not-unsubstantial Lancashire cheese scone sits alongside with a spiced pear chutney to finish you off.
The only slight disappointment was probably the pud, perhaps because desserts are normally so impressive when it comes to afternoon teas. A Beefeater Tea (can you spot the trend here?) crème brulee tasted nice enough, but it looked a little out of place alongside the other, daintier items. I had been expecting little mouthfuls that would trick me into thinking I could finish the lot, but what we got was really an a-la-carte dessert on the wrong menu. Still, I had my Meg moment, and boy did I enjoy it.
Beefeater 24's G & Tea Tiffin is priced at £52.00 per person and is available daily between 2 – 7pm. Please book ahead for the Tiffin by calling 020 7636 1000