After years as the drink of choice for grisly old fishermen, sailors and pirates rum is replacing vodka as the spirit of the times. As the film The Rum Diary hits the big screens, we look at the enduring appeal of this fiery drink, which ranges from San Juan, Puerto Rico, to St John's, Antigua and St James', London.
In bars and clubs across the UK retro Pina Coladas are being served with a cocktail umbrella in a hollowed-out pineapple, as well as voodoo skulls containing lethal Zombies, and what was Prince William's favourite, (before his marriage anyway) the Pieces of Eight, a treasure chest filled to the brim with rum, brandy, peach liqueur and Champagne.
RUM DIARY
November 2011 sees the UK premiere of the film The Rum Diary.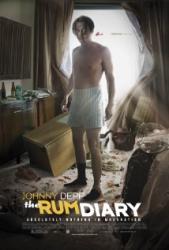 Based on the book by Hunter S Thompson, gonzo author of books such as Fear and Loathing in Las Vegas, it stars Johnny Depp as journalist Paul Kemp who gets frustrated with New York and moves to the pristine Puerto Rico to write for a local newspaper in the late 1950s at a time when the Americans had fallen out of love with Cuba and moved their rum and cigar salsa party to the island. The book which was published in 1998, 40 years after it was written is a thinly veiled autobiography of Thompson's louche lifestyle on Puetro Rico.
Earlier this year I relived Hunters' rum-soaked island lifestyle of the late '50s in the bars and cafes of old San Juan in the likes of the crusty bohemian bar El Batey and other dives on calle Del Cristo and Fortezala Street. Nothing much has changed here over the years and after dark, with the sound of salsa pounding from every doorway, the rum is hard to avoid.
Puerto Rico's signature cocktail Pina Colada is said to have been invented at San Juan's Caribe Hilton hotel which opened its doors in 1949 and served cocktails to the likes of Joan Crawford and other Hollywood stars of the day.
The island is home to what is known as 'the cathedral of Rum' the Bacardi distillery, but rum distilleries are found throughout the Caribbean islands, ranging from the high tech to quaint traditional factories whose production methods have barely changed since plantation days.
Despite several countries around the world laying claim to their own varieties, (the sugar plant itself originates in Papua New Guinea) the Caribbean is celebrated as the spiritual centre of the rum world. Rum has been intertwined with its culture and heritage for nearly 400 years.
In the seventeenth century the spirit found in the Caribbean was described as "hot, hellish and terrible". However, a few years later a Dutch sea captain returning from the West Indies is reported to have written "the spirits are now smoother to the tongue and have a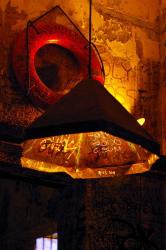 cquired a golden colour during the voyage". By the eighteenth century a hogshead of the finest aged Caribbean rum was reputed to be judged fit for George Washington's inauguration party.
In Antigua, I talked with OJ, whose eponymous bar and diner sits on the pretty west coast at Crab Hill with great sunset views and weekly mellow jazz. What is his most popular drink? His Old Fashioned Rum Punch of course, made by his wife by the gallon to satisfy the thirsts of locals and tourists alike. It is made with local Cavalier Rum and differs from a Planters' Punch which, although fruitier, packs less of a punch he said. But rum is not just the preserve of the glamorous cocktail drinker.
On the island I was also introduced to the rum shop in Bolans Village run by Madeira born Angelo Barretto who produces an evil looking brew from under his counter. The rum shop stocks combs and toothpaste and other basic supplies as well as his home blended rum which he will decant into customers' own bottles. 40 proof, it costs 40 Eastern Caribbean dollars a gallon (about £10).
The capital St Johns makes the world famous English Harbour rum and it is from the distillery there that Angelo, known as Betto to the locals, acquires the basis for his fiery blend.
Rum at the top
Back in London the atmosphere at the glam Zander Bar in St James couldn't be more different. Barman and mixologist Kevin Parreira is preparing his menu of concept rum cocktails, which he explains changes every three months. He serves his Pina Colada Foam, a new take on the old classic, topped with a foamy egg white topping which adds a meringuey sweetness to the drink. It has a lovely coconut bite to it and I think Joan Crawford would have approved.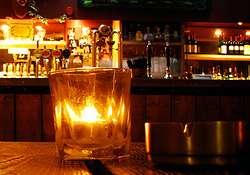 Next up is another rum classic, the Dark and Stormy, made famous in Bermuda and a heady combination of Goslings' Black seal rum, lime and ginger ale. Kevin tells me this is a Zander Bar favourite, especially as the winter nights draw in and the clientele find the warming cocktail something to linger over on a dark and stormy London evening. Here it is served in a charming little jar, the original vessel used by The British Army 100 years ago.
Less traditional but equally drinkable is his divine concoction Chocolat Sazerac.
Sounding and looking more like dessert than a drink, it is presented in a frozen martini glass with a sphere of alcohol balanced like a Christmas bauble on a bed of ice. We suck it through a straw, imbibing the divine taste of rum, Absinthe, cacao and orange bitters.
For a longer rum drink Kevin recommends a refreshing white rum Mojito made with pear, rosemary and grape which has, as he says, 'just enough sweetness'.
Rums -the lowdown
White
Jamaicans consume 12 million bottles of Wray and Nephew White's clear Overproof rum each year. It is at the heart of any rum punch and held in almost spiritual reverence in Jamaica. It's sprinkled on a new baby's head, and on the doorstep to ward away ghosts. You should also try Angostura White (Trinidad), Appleton White (Jamaica), and Captain Morgan Rhum Agricole Blanc (Martinique).
Golden
Ron Zacapa, from Guatemala is sold in a bottle wrapped with palm leaves that originally disguised the original label of another company. Elements of chocolate, liquorice and vanilla combine to produce perfect sipping rum. You should also try Bacardi 8 (Bahamas), Havana Club Anejo Reserva (Cuba), and Mount Gay Extra Old (Barbados)
Dark
Goslin's extremely smooth Gold Seal, from Bermuda is dark with rich caramel flavours and hints of honey and toasted nuts. Its full flavour also lends itself to mixing. You should also try Appleton's Estate Extra, a great alternative to American bourbon, J.Bally 1987 (Martinique), and Pampero Especial Annejo Rum (Venezuela).
Did you know?
Real McCoy
During American 'prohibition' in the 1920s a rum-runner by the name of Bill McCoy sold cases of rum from a small island off the coast of Florida. In the eyes of the law he was a criminal but to his customers he was that rare thing, an honest rumrunner. Bill never watered down his rum for more profit. It was the genuine article, giving rise to the expression 'the real McCoy'.
Londons Best Rum Bars
Cotton's Rhum Jungle, Islington & Camden – 70 Exmouth Market, London, EC1 , 020 7833 3332, http://cottons-restaurant.co.uk/
Trailer Happiness – 177 Portobello Rd. London W11 020 7065 6821, trailerhappiness.com
Floridita -100 Wardour Street London W1F 0TN, 020 7314 4000, www.floriditalondon.com
Zander Bar – The Bank Restaurant & Bar, 45 Buckingham Gate, London SW1E 6BS, 0207 630 664 www.bankrestaurants.com
Artesian – The Langham 1c Portland Place, Regent St, London W1B 1JA, 020 7636 1000, www.artesian-bar.co.uk
USEFUL INFO
ZANDER BAR, at The Bank Restaurant & Bar, 45 Buckingham Gate, London SW1E 6BS. Tel: 0207 630 664 www.bankrestaurants.com
OJ's Beach Bar & restaurant. Crab Hill, Antigua. Tel: 460 – 0184
Old Batey Bar, 101 Calle Del Cristo, Old San Juan, Puerto Rico.
BA recently launched a new direct service to San Juan, Puerto Rico from Heathrow so the time has never been better to taste the island's spirit www.ba.com