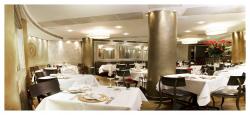 There is something autumnal about Tamarind all year round – it's bronze-gold dining room echoes the colour of the leaves on our trees before they turn russet, marking the end of summer and the first frosts. There is, however, nothing frosty about Tamarind's autumn menu which bursts with big, warm flavours and ingredients – such as spice roasted grouse and pheasant tikka – that reflect the time of year.
We went for the tasting menu, a stream of small plates and bowls that kept us entertained for the best part of two hours.
Although I can't resist a waddle-inducing blow-out, I realise others prefer to leave a restaurant walking elegantly (especially here in Mayfair). I know how they do it – this resisting greed stuff – I just don't want to join in. Eating out means, well, going out to eat. Those who wish to put their figures first would be delighted with the delicate and light black-eyed bean salad starter. A cleverly-judged mix of orange segments, baby cherry tomatoes, chard, pomegranate, a hint of cumin and a modest sprinkling of the beans, it was a delightfully refreshing adjunct to the more full-on starters. My notes reveal that, at first, I thought it was more suited to the curry-shy but, served with the pan-fried fish cake and the spice roasted grouse, it provided balance of texture, colour and weight.
The king fish fishcake – enlivened by ginger, lime leaf and the tiniest strips of spring onion then sweetened by a drop of gooseberry chutney – was rich, warming and as full-bodied and with as long a finish as the Côtes du Rhône that Tamarind's sommelier recommended to stand up to the spice. The roasted grouse salad was a textbook example of a dish that added up to more than the sum of its parts. Grilled courgette, rocket and avocado in an orange and chaat masala dressing doesn't sound that exciting but the mix of colours, textures, freshness, cool, warmth, spice and dark grouse flavour are what makes Tamarind earn its Michelin star.
Regulars will be glad that chef Alfred Prasad's signature dish of marinated lamb cutlets is on the autumn menu. Always moist and with a fully rounded flavour from the garlic, raw papaya, paprika and fennel seed marinade, it always draws praise – and an order from me. A really gamey pheasant tikka, a gloriously dark brown bowlful, and batons of cream-coloured paneer in a red chilli sauce with a fenugreek kick, brought autumn colours and flavours to the plate.
Side dishes included a classic and delicious slosh of yellow lentils – a not unreasonable excuse for reaching for more date, coconut and poopy seed naan. Broccoli and baby potatoes needed more oomph though the vibrant green of the broccoli, and its crunch, provided the sort of contrast that ensure you've had a visual and flavourful feast but never feel over-stuffed.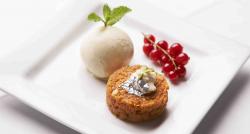 I can't leave Tamarind without finishing with the carrot fudge, its fleck of silver leaf and a sprinkle of chopped pistachios adding light-hearted glamour. Halfway between a traditional Indian barfi and the middle-eastern sweet, halva, it is rich but cleansing, sweet but not sickly, and lightly fudgy with a slight syrupy slurp as it relaxes in your mouth. If you want an antidote to rich spiciness, try the strawberry and mint sorbet – intensely fruity and a more logical end after such a range of spice, though you couldn't accuse the carrot fudge of being heavy; it is just as good a palate cleanser as the sorbet. Fortunately, with the tasting menu … you can, as I did, have both.
Tamarind is at 20 Queen Street, Mayfair, London, W1J 5PR