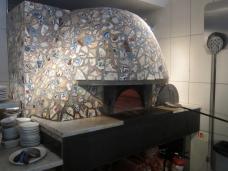 I'd heard of Franco Manca in Brixton from friends who live there. They told me it was the best place in the area to go for tasty, reasonably priced pizza. so I was pleased when I found out they'd opened one in my end of town at Westfield Stratford City. "Fantastic" I thought, as I could check them out whilst also looking around the recently opened 'Super Mall'.
The new Westfield Stratford City is, as you have probably read, home to over 300 shops and department stores and incredibly, some 50 cafes and restaurants. A few of them are dotted around the shops and walkways around the shopping centre but most are concentrated inside the scheme in the enormous cafe court.
You'll find Franco Manca on the 1st floor in the café court. They have importantly made a number of operational changes. The difference is they've changed from table service and gone for a fast food style set up, you turn up, order at the till and wait no more than 10 minutes (depending on queue size) for your pizza, you then grab a seat in the open plan food court. I suppose in a way it's going back to the original Neapolitan concept of Pizza being fresh, fast and affordable.
The menu has been tailored to suit this style of dining with a choice of 2 starters, 6 pizzas, 3 salads and one dessert option, with a wider range of soft drinks and wines. After scanning the menu I selected hibiscus tea and olives to start, with the wild mushroom, mozzarella & buffalo ricotta pizza for my main. My companion went for the tomato, cured organic chorizo (a mixture of dry and semi dry) with mozzarella pizza and on the recommendation from the staff chose the organic lemonade, made fresh onsite every day.
What makes these particular pizzas unique, and Franco Manca so popular, is the sourdough base, Franco Manca's pizzas are made from slow-rising sourdough, equal parts flour and water that creates a slow-rising dough which is left for a minimum of 20 hours. Once the pizzas are prepared to order they are baked in a wood burning brick oven called a tufae that cooks them in a mere 40 seconds at a high temperature.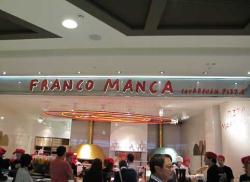 Once our food was ready we grabbed a seat close by and tucked in. The olives were large green Bella de Cerignolas, known for their sweet flavour. Next up the pizza, the beauty of the sourdough is that it produces a wonderfully light base with a nice thick crust that, in all honesty, was a little soft for my liking but enjoyable nonetheless. The toppings were all organic with the producers clearly named on the menu. Both myself and my companion easily finished our pizzas off and I'm glad to say I didn't feel overstuffed like I usually do when eating pizza. Maybe it's something to do with the sourdough?
We thought we had to try the quirkily named butter picker dessert to share. The butter picker (tiramisu to me and you) was moist and made with Neverend Farm butter cream, which gave it a rich texture, and as you might have guessed inspired the name.
I'd definitely recommend Franco Manca if you're short on time, but don't fancy the usual suspects in fast food court. They have managed the difficult task of delivering fast, affordable and competitively priced food without having to compromise too much on quality. Their real achievement however is creating a product with a real point of difference in the competitive and crowded Pizza market.