Relax! Everything is under control with Laverstoke's help – mince pies, Christmas puddings – it's too late to make your own now and Laverstoke's are gaining flavour by the day -stuffing, hams, pies, party foods and your meat of choice on the Christmas table – rare breed native Angus Beef or equally rare, Laverstoke's winning Norfolk Black Turkey. As ever with the produce from Laverstoke Park Farm, you can rest assured in the knowledge that not only will your traditional festive food selection be both delicious and even perhaps unusual, but it will also have the guarantee of the highest ethical standards in provenance and animal husbandry.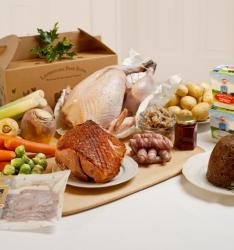 Slow growing on the farm's pastureland – planted with 31 herbs, clovers and grasses ensuring a varied and nutrient rich diet – Laverstoke's organic Norfolk Black Turkeys have pecked their way to their very best. They have a great depth of flavour with gamey undertones that single them out from mass production. If, however beef is your meat of choice this Christmas the farm's Native Angus – one of the oldest and rarest breeds of beef cattle – really is a treat. So rare in fact, it's only made available at Christmas.
Laverstoke Park's hampers certainly have the wow factor. Choose from the Ultimate Christmas Day Hamper (serving 8 and priced at £159) – features the Norfolk Black, all the trimmings including Pigs in blankets, organic veggies, Christmas Pud with Brandy ice cream and even a cooked ham. The Ultimate Gourmet Hamper (serving 10-12 and priced at £259) really contains everything your heart – and stomach – could desire! In addition to all the contents of the 'Ultimate' twice over, it also features – mince pies, sticky toffee pudding, shortbread, the farm's speciality cheeses and two bottles of organic Champagne. Whilst on a smaller scale The Small Christmas Day Box (serves 2, £69) features all the trimmings and treats like Sticky Toffee Pud and ice cream, but with smaller cuts of meats along with chicken as opposed to Turkey.
The Laverstoke Hamper selection also includes The Trimmings Box (serves 4, priced £159) making life easy with a handy box full of delicious chipolatas, bacons, pigs in blankets, pork stuffing, a gammon joint and preserves.
However – if you don't fancy Laverstoke's selections, why not choose your own? Bespoke your own hamper online and create a hamper exclusively for yourself or as a gift for someone special.
Finally and a first this year is the New Year's Weekend Hamper (serves 4, priced £159) Laverstoke have got it all covered from Breakfast to Dinners and some late night snacking with – lamb, bacons, sausages, roasting joints, kidneys, pies, organic free range chicken, rump minute steaks, ice-cream… no need to move all weekend!
The Laverstoke Christmas offering doesn't stop at the produce. The on-farm cookery school offers workshops for a pain free time in the kitchen this Christmas. Learn the chef's tricks to make Christmas day cooking easy and of course how to create delicious treats to wow family and friends this Christmas (workshops last four hours and cost £59).
Twickenham Laverstoke Butchers and Farm Shop- 35, King Street Parade, Twickenham, TW1 3SD. www.laverstokepark.co.uk