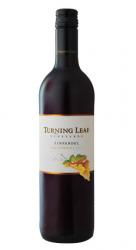 Turning leaf is a leading producer of premium Californian wine for the U.K. market and among their range is a highly satisfying Zinfandel at a modest price.
Named after a town in California, Zinfandel is a characteristic grape variety of the U.S.A with its early ripening fruit producing a juice with relatively high sugar levels. This means that the resulting red wines are rich and powerful and ones that will appeal strongly to all those with a taste for the New World.
Dark in colour with a deep blackberry aroma, Turning Leaf Zinfandel is the epitome of the smooth-as-silk, super-intense wines characteristic of the region. On the palate comes a concentrated release of fruit, then follow brandy, caramel, cherry, and jam. A touch of oak vanilla is subtly integrated (you could never describe this wine as 'oaky') and, when paired with food, chocolate and coffee notes also emerge. Yes, this wine has a nice little complexity going and, at this price range, represents very good value indeed.
Turning Leaf winemaker Stephanie Edge, together with culinary artist Esther Röling, have created a series of recipes to accompany each of the producer's wines all of which can be found on the website
Their food pairing for the Zinfandel is a comforting, melt-in-the-mouth dish of braised veal with pureed butternut squash. All quintessentially autumnal and inspired by the seasonal colours found in the vineyards. A feast for all your senses, California style!
Available at Asda, Sainsburys at around £7.00 a bottle