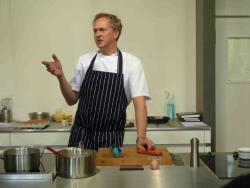 Nick Nairn's voice is dark and gravelly – the result, he tells us, of a long and hard session at the bar the night before. He looks reasonably good on it – relatively unlined for his 53 years and his hard-work, hot-kitchen career – and the only sign of a hangover is his need for strong coffee and one of his favourite ginger nut biscuits for dunking. We dunk with him. We are in Aberdeen, at his newest cook school, test driving one of his courses and the brand new Falcon cookers he's installed in this, his second,school.
Nick's quick to distance himself from the sort of celebrity endorsements he hates. You know the ones, anything anywhere as long as it pays well, first this product, then that one, and another … seemingly without a thought about what the commercial arrangements might do to their reputations. He believes in long-term relationships.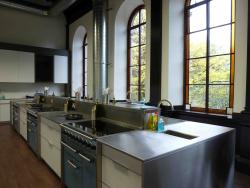 He first fell in love with Falcon cookers after discovering one, in bits and on sale for £50, over 25 years ago. He installed it in his kitchen and five years later, when he was awarded his first Michelin Star, there it was, still in his kitchen. The cookers are in his hotel kitchens; he has worked with Falcon on recipe development; he has the latest luxury model (the 1092 Deluxe, since you ask) at home; and today I'm looking at 12 of them, all China blue and stainless steel, glinting from the Scottish sunshine streaming through the stained glass windows of this handsome, spacious, tall-ceilinged classroom. He had to hire a crane and take the doors off to get them into position in this listed building, formerly rooms attached to the local parish church. I can feel the pain of the extra costs he faced.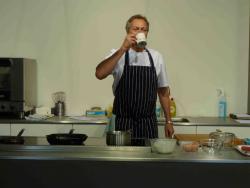 After a quick toast to Falcon – a raising of his coffee cup, a swig to halt that hangover – he moved on to the day's course. Three courses, actually, called A Dinner Party to Impress: potato pancakes with grilled vegetables, pesto and poached egg; the perfect steak with Cabernet Sauvignon vinegar; and raspberry crème brulée. A little pedestrian? Not very Michelin Star? Perhaps, but don't be fooled. As Nick explained, his courses are all about building blocks. You learn a technique that can be transferred to other, more complex recipes, and let's admit it … who hasn't mucked up a poached egg, flabbified or crucified a steak, and avoided making a crème brulée because it seems far too risky?
We tackle the crème brulée first. And this is the point of cookery courses. It's not just about working through the recipe; it's equally about the snippets of information you pick up along the way.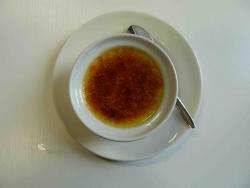 As Nick says, no pudding puts a chef in the spotlight more than a crème brulée. Will it be too runny, or scrambled? Will the topping be a thick, impossible to penetrate slab of caramel that pushes down in one piece, squirting the crème east, west, north and south over everything and everyone – or will it be an equally embarrassing runny pool of murky liquid? To avoid these problems we will not be using a bain-marie in the oven where the little pots can't easily be seen, making it hard to check when it's ready. Instead, the crème bit will be made like custard – in a pan on the easier-to-control induction hob. That's tip one. To check it's ready, we'll use a Thermapen that tells us when it's reached exactly the right temperature (82° to 85°). Tip two. To create the caramel we won't rely on the cooker's roll-out grill (disappointing, that; I wanted to test everything on the Falcon) but the cutest blow torch I've ever seen. Tip Three.
We are watching intently. The session starts with a demo of each course before we move to create them ourselves. He's separating the eggs – not the Nigella or Jamie way of letting the white slip through the gaps between the fingers but properly, cleanly, using the shell. The vanilla pod is scraped – a real crème brulée has vanilla seeds through it – and Nick whisks and stirs and takes the mixture's temperature, again with that Thermapen, simultaneously. He moves the hob temperature up a notch – not too much, not too fast he warns – stirring till the custard reaches the perfect creamy, neither runny nor solid, texture.
He's on to the potato pancakes. The spuds have already been mashed to smoothness; the veg are peeled and sliced into slithers. This recipe is about jazzing up after prepping – mise en place, to use a chef's term; everything is in its place, ready to be finished. How do you freshen up cold mashed potato? Add spring onion. The secret of chargrilling? Put the veg on the griddle and leave them – they caramelise at high temperatures and moving them reduces the heat.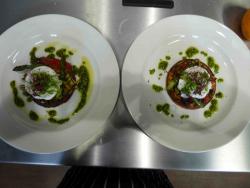 Then to the poached egg. The important bits? The egg must be super-fresh (the albumen should be thick and held together); the temperature must be at 99° (possible thanks to the controllability of an induction hob); bring it to the boil then take it down to a simmer (bubbling slightly at the base); you must let the egg go into the water, from a very short distance immediately above the water, in a gentle movement. We cooked them early and slipped them into ice-cold water, sliding them into hot water for 30 seconds before serving. And, no, when I did mine it didn't overcook and, yes, it was hot right the way through. (That's his on the left and mine on the right.)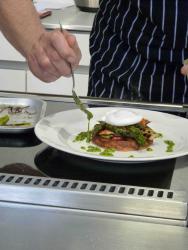 In Nick's view, bought pesto is "akin to grass cuttings" and there is no excuse for not whizzing it up at home. Oil and garlic – do them together first. Add herbs and parmesan last. He recommends freezing it in an ice cube tray then separating the cubes into ziplock bags and putting them back in the freezer; they should last a year. If the mixture is too thick, add more oil till it reaches drizzling consistency. 
Celebrity chefs – indeed, all chefs – have their own idiosyncracies … in the way they act, the way they work, or the terms they use. We've had Nigella's seductive flirting with the camera; Jamie's tousle-haired, cheeky chappie "pukka"; Keith Floyd's liberal use of alcohol and I don't mean in his recipes; and Nick Nairn has his "shuggle". The potato pancake was in the pan, warming through and browning nicely. He gave it a "shuggle". A bit of a shake, a light movement, enough to release it, making sure the potato didn't stick, and allowing it to brown consistently.
He's keen on "pan management" too, working with "happy pans" – with the ingredients in their correct state (steak should be brought to room temperature before frying, basting it with a lot of butter) and temperatures that create the right amount of sizzle; too little sizzle and it's a sad pan; too much sizzle and it's an angry pan.
Nick's tips for steak? Clearly, the quality of the beef is important (we used Aberdeen Angus sirloin, hung for 28 days); it should be at room temperature at the start and is ready when the centre reaches 38° to 40° (out came the Thermapen again); basting with butter is essential for flavour. A perfect steak has a caramelised crust but is still juicy; resting it is essential.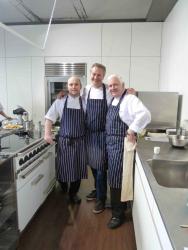 Nick takes courses roughly once a month but if your dates don't match his you have no reason to be disappointed. His number two, John Webber (on the right in the photo), beats Nick in the Michelin Star stakes – he's worked at two-star level, at Gidleigh Park and Kinnaird Country House, and trained alongside Anton Edelmann at the Savoy and Anton Mosimann at the Dorchester. He's been teaching with Nick for 12 years and his patience, warmth, encouragement and guidance kept us steady – and rescued me from one near-disaster. Kenny Smart (left) works with John and is similarly supportive and keen to impart knowledge and tips.
Snatch a quick after-work or lunch time class (from £39) at the Quick Cook Bar; courses include learning a key cooking skill and a practical hands-on cooking experience resulting in a delicious dish, cooked by you. Or take one of the full day classes (from £159); courses include Just fish; Just meat; Modern Indian; Thai Cookery; Simple Italian; Dinner Party; Vegetarian, and many more (choose from about 40 menus).
Check www.nicknairncookschool.com for details of classes.
And, yes, I loved cooking on the Falcon and have stuck it on my must-buy-for-my-new-kitchen list: www.falconappliances.co.uk