Living opposite McDonalds has its dangers for a would-be food snob like me- Especially last week when I found myself too busy to dream up new recipes and put them into action.
Thankfully, real food prevailed in the face of grimy temptation and by resorting to some of my quick dinner favourites learned from my travels around Europe; I was able to resist the siren-like lure of the golden arches.
So if you have a spare 15 minutes and want to eat some genuinely satisfying food, try any of the recipes below. Enjoy!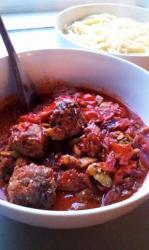 Puttenesca Meatballs with Spaghetti
Ingredients
For the Puttanesca sauce
1/2 red onion chopped
1 x clove garlic (minced)
5 x sundried tomatoes ( minced)
15 or so black olives (halved)
2 tablespoons capers
Olive oil
1 x chilli (chopped) (optional)
Parsley to garnish.
Salt and pepper
For the meatballs
4 x pork sausages
400g x beef mince
1 x clove garlic (minced)
½ red onion finely diced
Salt and pepper
1 x teaspoon oregano
Plus
Method
Remove meat from the pork sausages and place in a bowl, discarding the skin
Add the minced beef and all other ingredients to the sausage meat and kneed it together until well combined
Roll the mixture into balls
Fry the balls in olive oil and discard any excess fat that exudes during cooking.
Put the meatballs to the side whilst you whip up the puttanesca sauce.
For the sauce
Fry the garlic, chilli, onion, sundried tomato and half of the olives in olive oil for a few minutes
Add the chopped tomatoes and cook it all together for a few more minutes to allow the flavours to infuse
Add salt and pepper, capers, the remaining olives and parsley towards the end of cooking
Put the meatballs in the sauce and cook it all together until it is bubbling and hot
To serve
Serve in massive portions with mountains of spaghetti and grated hard cheese.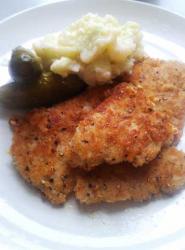 Pork Schnitzel and REAL German Potato Salad
For the Schnitzel
Ingredients:
Pork Escalopes
1 x beaten egg
Plain flour
Salt and pepper
Lemon zest of ½ lemon
Bread crumbs
Oil to fry
For the Potato Salad
Ingredients:
15 x Boiled and peeled new potatoes
½ Cucumber – grated
1 x tablespoon White wine vinegar
5 x tablespoons mayonnaise
Salt and pepper
Method
Combine all of the ingredients for the potato salad in a bowl and mix together
Cover the escalopes in cling firm and beat with a mallet until ½ cm thick
Combine the breadcrumb with the lemon zest and salt and pepper
Dip the flattened escalopes in flour, then egg, then breadcrumb mix
Fry the breaded escalopes in oil on a moderate heat on both sides until golden brown and crisp.
Serve with gherkins / potato salad / capers / a litre of beer and lederhosen.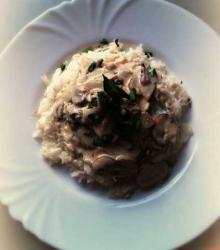 Perfect Mushroom Stroganoff
Ingredients
1 x cup basmati rice
300 g mixed mushrooms
1 x red onion chopped
1 x Tub crème fraiche (or for very low calorie version 0% fromage frais)
1 x cube of vegetable stock
1 x big squeeze lemon
Salt and pepper
2 x teaspoons paprika
Chopped  flat leaf parsley to garnish.
1 x crushed garlic clove
Method
Cook rice in salted water until tender
Dice the red onion and mince the garlic and fry in olive oil until translucent
Chop the mushrooms (slice some, roughly chop others to add texture)
Fry the mushrooms along with the onions and garlic, paprika, salt and pepper and crumbled stock cube cook all together until the mushrooms are cooked through and juicy