It's not easy being an omnivore who revels in the wonderful world of vegetables in all their myriad forms when you're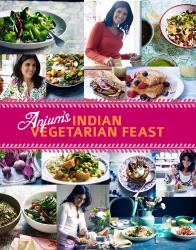 surrounded by chop-loving compatriots. Alright, I don't mind the odd Ali Nazik down the Turkish, but a plain hunk of plated protein is monotonous enough to kill my voracious appetite quicker than you can say'5-a-day'.  Veg, on the other hand, never fail to get the juices going- raw, cooked, pureed or whole… Let me at'em. Convincing the crew, however- now that's a meaty matter. Holy cow, thinketh I, what am I taking on?
So the arrival of Anjum Anand's latest,'Anjum's Indian Vegetarian Feast' is a much-welcome addition to my arsenal in the covert battle to vindicate those'vile' veggies. My strategy is subterfuge- get 'em when they're least expecting it. And that's breakfast time, when the weekend fry-up is replaced with a lentil-laden kedgeree and a round of chillas served with coconut chutney. These little pancakes are canny indeed- based on chickpea flour, they're every bit as proteinous as your average banger and, as is the consensus, far tastier.
The signature of an Anjum recipe is her clever combination of familiar and foreign elements, making a hearty nod to tradition whilst acknowledging modern practicalities and newly discovered ingredients- such as the violet syrup in a blackberry compote, or a caper berry chutney to serve with onion bhajis. The cook's sheer joy in culinary experimentation is evident, and recipe inspiration is frequently credited to skilled acquaintances both in the UK and across India- and her Nepalese Nanny can now also be credited with converting my clan to cabbage and carrots with her momos.
'Anjum's Indian Vegetarian Feast' could well do for Indian food what Yotam Ottolenghi has done for Middle Eastern cuisine, infuriating and engaging Guardian readers in equal measures with his long lists of exotic ingredients. Whilst Anjum undeniably keeps it relatively simple, she's not averse to introducing us to weird and wonderful vegetables like tindora or karela, or commanding us to purchase unusual proprietary spice blends like chaat masala from local Indian supermarkets.
But it's not an esoteric collection, by any means. Old favourites/nemeses like broccoli, mushrooms and even artichokes are given the spice treatment, all to rather noshable effect. There are even twisted takes on cottage pie and a cobbler that's anything but'a load of old..' Pick-and-mixing from the various chapters yields a scarily successful meat-free barbecue- Mumbai bhel puri, a tandoori veg feast, mile-high chickpea burgers with purple slaw, Delhi grilled sweetcorn and seed-sprinkled naan.
So, after such a wholesome treat- indeed, a wholesome week- a big, bad pud is surely just the thing. As yet, I've not even had to use dessert as a bribe, coming home to former guanciale-gnawing gannets merrily engaged in the dainty operation of stuffing okra. But today's the day for diving into lofty pomegranate soufflés, attacking vast bowls of mango and coconut trifle, and lapping up cardamom kulfi with violet vermicelli.'Indian Vegetarian Feast', indeed. And, despite the initial ambivalence, so say all of us!
Anjum's Indian Vegetarian Feast, Anjum Anand, published by Quadrille, RRP £18.99