There is often something a bit sour about wine buffs, apart from our own perennially cheerful Alan of course. You wonder if they really enjoy the stuff or just like being boring about it, forever claiming they can taste ever more outlandish flavours'a car seat from an Austin Riley' in an effort to outdo each other.
We read their pieces, nearly all about wines that are far too expensive, sometimes buy the wines and then with pursed lips see if we agree. Or we would do had we not thrown away the relevant article soon after reading it, pausing only to make sure the TV Guide wasn't with it of course.
Beer is different though, we can all afford a bottle of beer and in the UK we have been blessed with a foamy tide of craft brewers creating many interesting new beers in bottles. Let There Be Beer is a nationwide campaign to promote beer drinking, or to put it perhaps better, the drinking of beer (responsibly) and beer sommelier Steve Livens has come come up with some ideas for pairing beers with BBQ standards. We fired up the Weber (charcoal of course) and compared notes.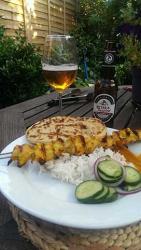 Harviestoun Bitter and Twisted
Available from: Tesco, Asda, Ocado and Waitrose
RRP: from £1.78
For the ultimate beer and food matching, pair with: Grilled chicken satay and chunky peanut sauce.
They say'This sublime blonde ale is an ideally balanced, refreshing and lively beer. It has a malty-sweet aroma with a floral, fruity hoppiness and a zingy flavour. Ideally suited to lighter, more delicate flavours such as those of the grilled chicken, this blonde ale perfectly complements the nuttiness of the satay sauce, delivering a zesty taste sensation!'
We say,'Definitely a zingy flavour which bit into the sweet peanut sauce while good gulpability quenched the chilli fire of our satay sauce. We had ours chilled, but not so that the taste didn't come through strongly. The name of the beer appealed too."
Available from: Sainsbury's, Morrisons, Tesco, Waitrose
RRP: from £1.89 – £2.00
For the ultimate beer and food matching, pair with: A classic British banger topped with fried onions.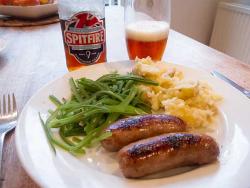 They say'One of Shepherd Neame's leading Kentish ales, Spitfire Premium Ale has a spicy, hoppy flavour and strong blood orange appearance. Hints of marmalade, red grapes and pepper thrust from a springboard of warm, smooth malts and fill the taste palate to create a delightfully intense flavour. This delicious, slightly fizzy brew has a hoppy aroma that perfectly complements its bitter flavour.The character of this classic ale is guaranteed to hold its own against the strong flavours of the fried onions and sausages.'
We say'Just for the inspired and non PC ad campaign a few years back we already love this beer. We needed little encouragement to crack this one open. The hops are quite strong in this one Skywalker and that's the way, ah ha ah ha we like it. We went a bit easy on the fried onions, one of us gets terrible stomach aches from them, but our pure pork sausages went together with the Spitfire like Douglas Bader , although we did not get as legless.  Great beer, banter and bangers.
Badger Brewery Golden Glory Premium Ale
Available from: Sainsbury's, Morrisons, Tesco
RRP: from £1.25 – £2.00
For the ultimate beer and food matching, pair with: Spicy prawn skewers partnered with a mango and chilli salsa.
They say'Deliciously balanced with flavours of peach and melon, this award-winning Golden Ale oozes a sweet and fruity aroma. The smoothness of this ale is perfectly complimented by subtle hints of malts and a wonderful hoppy finish. The fruity undertones will temper the spice and also lift the flavours of the prawn whilst standing up to the salsa.
We say'We never got to food match this one as we forgot to get the prawns out of the freezer in time. So we drank it with prawn cocktail crisps, which is possibly how many people will drink it in the pub. It seemed a good match. You can see why the beer has won awards as it really is a good mouthful. Perhaps ready salted would be a better partner though.'
Available from: Sainsbury's, Morrisons, Tesco
RRP:
from £1.25 – £2.00
For the ultimate beer and food matching, pair with: A juicy burger that's fresh off the grill.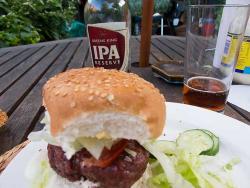 They say'This full-bodied ale has a pleasantly rich appearance and a mellow fruit aroma. Grapefruit and orange citrus tones merge with the floral and herbal Styrian Goldings hop to produce reserve ale with a dry, bitter finish. This premium-strength ale has a powerful and warming taste, perfect for amplifying the richness of the burger whilst complimenting the sour tang of the relish.'
We say'Our burgers were superb, though we say it ourselves. From Waitrose if you must know, grilled and coloured over the coals then moved off the direct heat and cooked with the BBQ lid on to get them perfectly medium rare without excess burnt exterior. All IPAs go well with this kind of food but this one really cut through a burgers tendency to coat the mouth. Our toasted buns went very well with our, by now, pretty toasted taste crew.'
Available from: Waitrose, Tesco, Ocado
RRP: from £1.97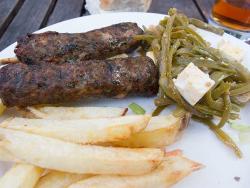 For the ultimate beer and food matching, pair with Lamb kebabs teamed with onions, peppers, shallots and plenty of seasoning.
They say'Dark gets its delicious roasted flavour from being brewed from three types of malt; Munich, caramel and roasted. Working with the robustness of the dish, the darker, astringent character of this lager would work nicely with the BBQ lamb. However some floral and citrus hops would lift the flavours and cut through the fattiness of the meat whilst keeping up with the strength of the seasoning, peppers, onions and shallots.'
We say' Again the trusty BBQ did the business of searing the exterior of the kebabs, from Waitrose again, while keeping the lamb centre good and pink. With it we ate allotment runner beans and fresh dug potatoes, chipped. Marvellous. The sharpness of the beer was just what the lamb needed as suggested and it held its own against some seriously spiced meat and helped wash down the over salted chips'
Available from: Asda, Tesco, Sainsbury's, Tesco, Ocado
RRP: from £1.97
For the ultimate beer and food matching, pair with: Sticky BBQ ribs.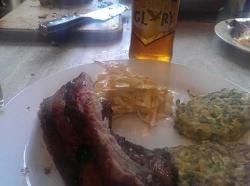 They say'This lager has an earthy, fresh bread aroma with hints of hops and honeysuckle. The subtle malty sweetness with a caramel tone is characteristic of Pilsner Urquell whilst the Czech Saaz hops add a pleasing bitterness.  Sticky BBQ Ribs require robust flavours in the beer. This zesty, hoppy lager will provide a strong malty backbone while the punchy, citrus hops will cleanse the palette between sticky mouthfuls.'
We say:'Oh this was good, we took Donald Russell Pork ribs and baked them off the heat in the Weber from frozen (yes) for about 90 minutes. They came out absolutely delicious; moist, tender and with beautiful'bark' (the smoke tint on the outer edges of the meat). The Pilsner did indeed cut through well and we needed a fair napkins too. A good Pilsner like this puts the cheapo Pilsners well in their place.'
All in all, as we staggered somewhat drunkenly away from the garden, it was a good taste test. Britain's ale makers are on the rise to let there be beer and not just at the BBQ.