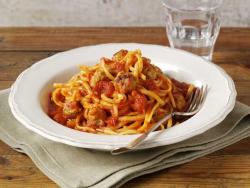 A bowl of meatballs is a classic winter warmer, especially when eaten cuddled up on the sofa in front of a movie! Meatballs also happen to be a favourite of TV presenter and former Masterchef winner Lisa Faulkner and she has created her own special recipe with a difference using star anise, ginger and Kikkoman soy sauce to spice up this old favourite.
She says: "The secret to really delicious meatballs is actually the sauce. In my version the spices add subtle warmth and the Kikkoman soy sauce gives the sauce a rich, full-bodied flavour and enhances the tomatoe-y taste. It's such a versatile dish that can be served with pasta, in sub rolls or baked in a gratin."
You can watch Lisa make her meatball dish in her step-by-step cookery video on www.kikkoman.co.uk, or get cooking straight away with this recipe:
Pork Meatballs with Linguine
Serves 4
Prep time: 15 mins plus 30 mins chillingCooking time: 45 minsPer serving: 547 calories, 16g fat, 4.6g saturates, 11.8g sugar, 1.3g salt
Ingredients:
4 spring onions, roughly chopped
1 clove garlic, peeled and crushed
Thumb-sized piece ginger, peeled and grated
400g pork mince
Pinch chilli flakes
2 tsp Kikkoman soy sauce
30g dry white breadcrumbs
1 egg yolk
For the sauce:
1 tbsp olive oil  
1 onion, peeled and finely chopped
1 clove garlic, peeled and crushed
1 tbsp tomato puree
2 star anise
2 tins chopped tomatoes
2 tsp Kikkoman soy sauce
Pinch sugar
To serve:
300g dried linguine
Method:
Blitz the spring onions and ginger in food processor until finely chopped then add the remaining ingredients. Pulse until combined then tip into a large bowl. Shape the mixture into marble-sized meatballs, cover and refrigerate for 30 minutes.
Meanwhile make the sauce. Heat a little olive oil in a large heavy based pan, add the onions and fry for 5 minutes until soft. Add the garlic and star anise and fry for a further 2 minutes. Add the tomato puree, tomatoes, soy sauce and sugar and simmer for 20 minutes until thickened.
When the sauce is nearly ready, heat a little olive oil in a deep frying pan, add the meatballs and fry for 5 minutes until golden brown all over. When the sauce is ready pour it over the meatballs and cook for a further 10 minutes.
Meanwhile, bring a large pan of salted water to the boil. Add the pasta and cook for 7-8 minutes until al dente. Drain and reserve a little of the cooking water. Add the cooked pasta and a ladleful of the cooking water to the meatballs and sauce and toss to coat. Serve with a crisp green salad.