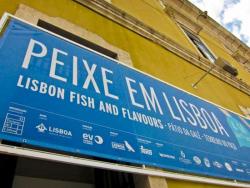 Now in its 6th year, Peixe em Lisboa takes place over 10 days, with cooking classes, wine pairings, chef demonstrations and tastings provided by top Portuguese restaurants.  Rupert Parker spent a couple of days soaking up the atmosphere and sampling the food.
Lisbon is one of the few European capitals situated close to the sea and therefore it's fitting that fish is a big deal here.  Apparently in Portugal alone, there are said to be over 1000 recipes for Bacalhau, the dried cod which the locals seem so fond of. I've never been a big fan, and much prefer the fresh variety – fortunately there was much on display here.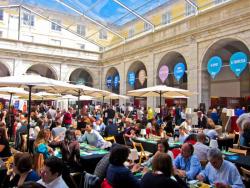 The city tumbles down 7 hills, with small tabernas occupying every street corner. This is mom and pop cooking, but none the worse for that, with wife in the kitchen and husband out front doing the meet and greet.  Food is cheap as chips, which incidentally are made from real potatoes and are not the disgusting reconstituted frozen variety.  I lunch in Taberna da Rua das Flores, a few steps from the Chiado, and particularly enjoy their fried liver with a sauce made from wine and scraped spleen. It only has a few tables and you can't make reservations, so get there early, and you won't spend more than 10€.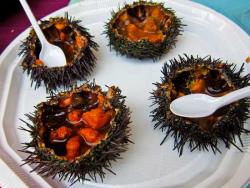 Peixe em Lisboa is a bit of a cross between Madrid Fusion and Taste of London with a gourmet market selling cheeses, jams, olive oils, sausages and wine plus free samples. Unfortunately the cooking classes are all in Portuguese which rules me out, but the chef demos do have headphone translation. I'm heartened to see that they're avoiding the Spanish fad of creating pictures on a plate, but there's still ample use of tweezers and flowers.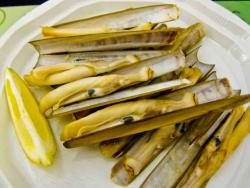 They do seem to be on a fast track to rediscovering their traditions, however, partly because they never went away. Bertílio Gomes, from Lisbon's Chapitô à Mesa, is using red carrots from the Algarve – not as sweet as the orange variety, and a staple 60 years ago in Portugal, they're now making a comeback. Broad bean leaves also feature and he marinates his black olives in salt and garlic for days, a technique he learnt from his grandmother.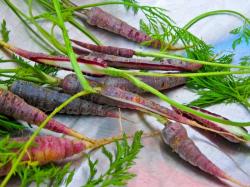 I'm now hungry and set out on my mission to taste the dishes. You buy tokens for the restaurants, at 5€ or 8€, and the princely sum of €1.50 gets you a huge glass of excellent Portuguese wine. Ten restaurants, from all over Portugal, are taking part and I'm gratified to see that you get proper sized portions. Standouts include a sardine pie adorned with cod roes, smoked skewered eel with barbecue sauce, excellent sashimi and semi-raw tuna with ginger and miso.  What I can't resist, though, are the bundles of razor clams, heated just long enough to open and I devour a plateful every day I'm there.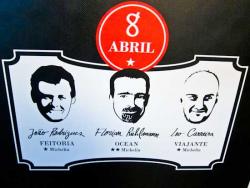 Other gourmet events are also occurring in the city including "Young Chefs with Guts".  It's not the name of a dish but rather a wizard idea where sous chefs from Michelin-starred restaurants take turns to prepare 11 courses.  Of course they can cook as well as their masters and it doesn't disappoint although it's bit of a long day's journey into the next morning.  The standout dishes are the work of Leandro Carreira, all the way from Nuno Mendes's Viajante in Bethnal Green. I particular enjoyed his Goose Barnacle with Sea Lettuce and there was a delicious Amuse Bouche of scrambled egg with sea urchin.
It's well worth planning a trip to Lisbon next April when the 7th  Peixe em Lisboa is taking place, or just take a weekend break anytime. If you want to sample Portuguese food in London, Luis Baena is opening his Notting Hill Kitchen in the coming months and Nuno Mendes has already made his mark.  But of course, the best place to sample it is on home turf and Lisbon is bursting with restaurants, all desperate to tempt you inside.  Given that they're in the middle of an economic crisis, you should go there and do your bit to help.
More details here of Peixe em Lisboa
Visit Lisboa has information about the city.
Visit Portugal has tourist information about the country.