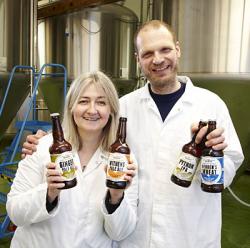 "Little Valley Brewery? It's up twixt Cock Hill, Lark Hall & Cragg Vale".
Yes, with place names like these, you could only be in deepest West Yorkshire.
Here Dutch master brewer Wim van der Spek and his partner Sue Cooper have settled, quietly and concienciously producing one of the more interesting ranges of 100% organic beers being brewed in England today.
Characterised by their clean, refreshing palate and a certain continental idiosyncracy, Little Valley Brewery beers are eminently suitable for food lovers to consider as an accompaniment at meal times; so with a bottle opener in one hand and a frying pan in the other, I tasted my way through the entire range and listed my favourites together with some 'Foodepedia' culinary recommendations.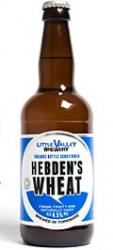 Starting at the lightest end of the colour spectrum we have Hebden's Wheat (4.5%). Pale, hazy and refreshing, this would be the number one choice for seafood dishes and has fruity notes that combine nicely with Asian flavours.
The palate is delicately enlivened by nuances of strawberry, apricot, peach and floral jasmine so try serving a platter of Thai prawn fishcakes with lemongrass and chilli.
Tod's Blonde (5.0%) is like a lager but with an earthy depth of flavour reminiscent of a continental 'bière blonde'. It does not require to be 'lager cold' and can be savoured like a good ale.
With a fine, almost creamy texture and a hint of sweetness, Tod's Blonde is a highly usable beer for the table and could go with almost any food. I couldn't make my mind up between a Chicken risotto with olives, spinach and cheese or smoked trout with bechamel; so I tried both and.. still couldn't make my mind up.
Another favourite for the kitchen is Withen's Pale Ale (3.9%). With a subtle fragrance of fresh green wood and orange followed by a long, dry, bitter finish, this palate-cleansing beauty has an aristocratic air that is perfectly suited to a seasonal salad with cold roast pheasant (but please don't mention that to the pet pheasant in my garden).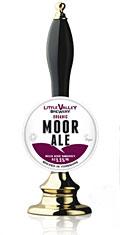 I have never crawled up a tarry old chimney but the unusual Moor Ale (5.5%)  provided the experience for me with it's strong flavours of peat, smoke and tar; but it doesn't end there.
An old fallen tree, rotting leaves and some ancient leather-bound books all seem to have been thrown into the vat with the hops resulting in an eyebrow-raising experience which is very much for those who like to explore. It's an acquired taste that requires an earthy tray of roasted vegetables loaded with turnip, carrots, onions and Brussel sprouts.
Python IPA (6.0%) is the strongest of the Little Valley brews which begs for rich and comforting food. It luxuriates in a treacle gold colour and lush texture dominated by mid palate flavours of thick peach and honeycomb. A little care and attention may required to fine tune a slow cooked brisket of beef with dumplings, onions, orange juice, mixed spice and coriander but the satisfaction level is high.
Finally, into the black with the Stoodley Stout: (4.8%).
Dry, rich but not creamy with notes of whiskey barrel, coffee and dark chocolate; something in this stout called me back to years gone by and a longing for battered haddock and chips with salt and vinegar wrapped in a Jubilee edition of the Daily Mirror.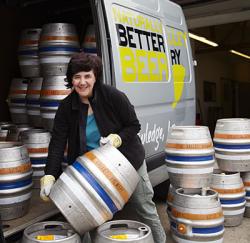 Like Yorkshire itself, all these beers are worth exploring and they can be purchased direct from Little Valley Brewery online or at the Brewery shop.
A box of a dozen bottles is priced at £32.95 including delivery while casks and polypins are also available.
Take a look at the Little Valley Brewery website to find out more about the full range of 100% organic beers.
Little Valley Brewery, Turkey Lodge Farm, New road, Cragg Vale, Hebden Bridge, West Yorkshire HX7 5TT